Medik8 Calmwise seum
Calmwise Serum provides intensive, calming relief for redness and flare-ups caused by skin hypersensitivity and utilises the latest cosmeceutical discoveries in the field of topical treatment of facial thread veins, skin irritation and erythema. A welcome and surprising side-effect of the key Red Alert Serum active, Teprenone, is an anti-wrinkle action.

Helps the skin combat daily environmental stress, improves the lipid barrier of the skin and visibly reduces the signs of skin ageing. Soreness and surface irritation are eliminated, while the damaged skin components that induce chronic erythema are restored to their proper function.

Size: 15 ml , dropper bottle - up to 75 applications.

Before and After Images after 1 month of using
Calmwise Serum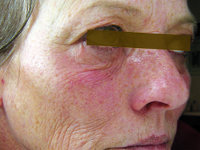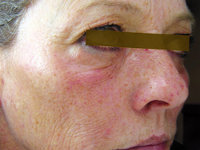 Benefits:

- Visible results after just one month in many subjects
- Visibly reduces the appearance of skin redness by upto 30% after one month of directed use
- Stimulates healing of the inner epidermis to prevent future irritation
- Visibly reduces the signs of skin ageing such as enlarged pores, wrinkles, fine lines and blemishes
- Helps the skin combat daily environmental stress maintaining results
- Improves the lipid barrier of the skin offering environmental protection
- Soreness and surface irritation are reduced markedly
- Damaged skin components that induce chronic erythema are restored to their proper function
- Teprenone has anti-inflammatory effect hindering facial itching, general irritation and burning sensations
- Fragrance-free, no parabens and no petrochemicals. Non comedogenic or acne aggravating.
- 100% compatible with laser treatments, IPL and sclerotherapy
- May be used as an active calming serum underneath post-peel camouflage make ups
- Note: Highly recommended as a pre-peel product (use for two weeks) to prepare the skin for top surface removal and also as a post peel product calming serum to minimise erythema and irritation.
Key Ingredients:
Teprenone – A patented anti-redness active that helps to prolong the life of skin cells, enhancing the skin's protective barrier and reducing sensitivity.
Organic Sage Extract – A powerful natural antioxidant that helps to soothe inflammation and calm irritation.
Directions:

Suitable for hyper-sensitive, inflammatory and erythematous skin types.
Prophylactic and care of mild Rosacea,facial thread veins and erythrosis.
Post treatment skincare maintenance after electrolysis, iontopheresis, IPL and laser (acceleration of regenerative processes and consolidation of procedure results)

Use once or twice daily


Calmwise Serum has been formulated for direct skin application.

In the morning, apply after antioxidant serum (water based) and follow with SPF hydrator. In the evening apply after cleansing and follow with Hydr8 night.
Use the integrated dropper to apply Red Alert Serum directly to the face.(3-4 drops) Alternatively, place a drop on your finger and then blend into the skin. Red Alert Serum can be used all over the face or on specific areas of redness or rosacea.
(Apply water based products first then oil based then creams)


Similar Products You May Like