Details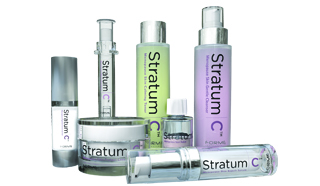 The UK's first skincare range for menopausal skin
Stratum C was developed specifically for menopause and contains 12 times more Matrixyl than high street brands which is proven to double your own collagen production in published clinical studies.
As the aging process accelerates during menopause, the skin changes, which causes fine lines and wrinkles to form. When the skin is less able to retain water, collagen production — which gives skin its thickness and suppleness — decreases rapidly.
Its proprietary ingredients include high levels of active peptides to double collagen production, combat wrinkles and lines, repair dry, itchy and less supple skin and replenish lost vitamins. Chains of amino acids are the building blocks of proteins in the skin, and Stratum C's active ingredients combine the optimum amount of Matrixyl, wrinkle-reducing pentapeptides, along with four further complex peptides, to hydrate, moisturise and tighten the muscles deep in the lower layers of the skin.
In addition, Stratum C products contain hyaluronic acid, squalane and seaweed extracts to hydrate the skin. This is combined with natural sources of vitamin A and E, derived from apricot kernel and jojoba oils, to replenish the vitamins lost through menopause.
Benefits:
Muscle relaxation – muscles are relaxed helping to reduce stress and tension within the skin.
Collagen production is stimulated – clinical trials have shown up to a 70% increase in the production of collagen, helping to improve elasticity and skin tone.
Increased moisture content – Hyaluronic Acid holds 1000 times its own weight in water making ti the perfect ingredient to help increase moisture content within the skin.
Smooth, supple skin – Key ingredients including Jojoba Oil and Apricot Oil leave the skin feeling soft, smooth and much more supple once more.
Stratum C Menopause Spot Relief 30ml
Just when you thought spots were a teenage problem, menopause comes along. Hormone changes are the source of both problems and it is thought that 70% of women going through the menopause will suffer some sort of breakout.
Most treatments for acne and spots are based on drying agents in face washes that remove oil and grease from the entirety of the face. The problem is that menopausal skin is thinner and drier and needs those oils and nutrients.
At Stratum C we created a powerful, overnight spot relief lotion that combines Salicylic Acid (a commonly used ingredient in most spot or acne treatments) with Sulphur and Zinc Oxide. The Sulphur acts as a pH stabiliser, reducing the acidic environment and reducing inflammation. Zinc oxide helps to regulate the skin by reducing redness and swelling.
Directions:
Stratum C Menopause Spot Relief oxidises in air forming a pink powder on the site of the spot. For that reason the active ingredients are stored under liquid to protect them. You will be tempted to shake the bottle, but DON'T! Take a cotton bud and dip it into the pink sediment at the bottom and apply only to the affected spots and leave overnight - washing off in the morning. It may take a few applications but your spots will be gone while the rest of your skin stays healthy and hydrated
please click on the links below for more information:
FAQ's (PDF)
How Stratum C works (PDF)
About Menopausal skin (PDF)
See what the Press are saying about Stratum C .....
Daily Mirror Newspaper (PDF)
Prima magazine (PDF)
Best magazine (PDF)
My Weekly magazine (PDF)
All about you (PDF)
You magazine in the Daily Mail on Sunday (PDF)
Great Press (PDF)
Good to know (PDF)
Natural health magazine (PDF)
Pamper (PDF)
Professional Beauty (PDF)
The People (PDF)
All our products are paraben, EDTA, DEA, BHA, BHT, phthalate, formaldehyde and MI free using only the gentlest of preservatives, acknowledging the fact that skin is thinner and more sensitive during the menopause. We do not use synthetic perfumes or colours in any of our products. This means that many of your products have to be used within 6 months of opening (rather than the usual 12) which is a small compromise for healthy skin.