Details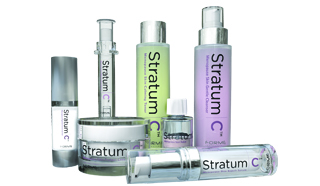 The UK's first skincare range for menopausal skin
Stratum C was developed specifically for menopause and contains 12 times more Matrixyl than high street brands which is proven to double your own collagen production in published clinical studies.
As the aging process accelerates during menopause, the skin changes, which causes fine lines and wrinkles to form. When the skin is less able to retain water, collagen production — which gives skin its thickness and suppleness — decreases rapidly.
Its proprietary ingredients include high levels of active peptides to double collagen production, combat wrinkles and lines, repair dry, itchy and less supple skin and replenish lost vitamins. Chains of amino acids are the building blocks of proteins in the skin, and Stratum C's active ingredients combine the optimum amount of Matrixyl, wrinkle-reducing pentapeptides, along with four further complex peptides, to hydrate, moisturise and tighten the muscles deep in the lower layers of the skin.
In addition, Stratum C products contain hyaluronic acid, squalane and seaweed extracts to hydrate the skin. This is combined with natural sources of vitamin A and E, derived from apricot kernel and jojoba oils, to replenish the vitamins lost through menopause.
Benefits:
Muscle relaxation – muscles are relaxed helping to reduce stress and tension within the skin.
Collagen production is stimulated – clinical trials have shown up to a 70% increase in the production of collagen, helping to improve elasticity and skin tone.
Increased moisture content – Hyaluronic Acid holds 1000 times its own weight in water making ti the perfect ingredient to help increase moisture content within the skin.
Smooth, supple skin – Key ingredients including Jojoba Oil and Apricot Oil leave the skin feeling soft, smooth and much more supple once more.
Stratum C Complete 4 Hand Care Cream 75 ml
Stratum C Complete 4 Hand Care is the first product on the market which combines all 4 essential hand care needs: antiwrinkle, age spot reduction, nail strengthening and sun protection.
Stratum C Complete 4 Hand Care is the ultimate care package for mature hands providing the essential attributes to protect and rejuvenate in one rich, non-greasy, luxuriant moisturising cream.
Complete 4
Rich moisturiser…
Shea Butter is used as a rich moisturiser alongside
Manketti Nut Oil to rejuvenate skin cells
Sun Protection…
This cream protects your hands from 88% harmful UV rays using mild SPF
ingredients – does NOT contain Oxybenzone
Strengthens Nails…
Strengthens nails and softens cuticles with Keratin Amino Acids Wrinkle reducing…
Strengthens nails and softens cuticles with Keratin Amino Acids
Reduces Age Spots…
Uses natural bio-identical ingredient Tego Cosmo to fade age spots and brighten skin
Matrixyl peptides are clinically proven to boost collagen making your hands look younger by reducing visible signs of ageing. Keratin amino acids harden nails and help soften cuticles which are often compromised through menopause and the ageing process.
Complete 4 utilises TEGO Cosmo, a natural, bio-identical ingredient proven in clinical studies to fade age spots and brighten skin. Finally Complete 4 contains an FDA approved, non-toxic sun protection factor (SPF) system blocking 88% of UV rays without using harmful ingredients like Oxybenzone.
please click on the links below for more information:
FAQ's (PDF)
How Stratum C works (PDF)
About Menopausal skin (PDF)
See what the Press are saying about Stratum C .....
Daily Mirror Newspaper (PDF)
Prima magazine (PDF)
Best magazine (PDF)
My Weekly magazine (PDF)
All about you (PDF)
You magazine in the Daily Mail on Sunday (PDF)
Great Press (PDF)
Good to know (PDF)
Natural health magazine (PDF)
Pamper (PDF)
Professional Beauty (PDF)
The People (PDF)
All our products are paraben, EDTA, DEA, BHA, BHT, phthalate, formaldehyde and MI free using only the gentlest of preservatives, acknowledging the fact that skin is thinner and more sensitive during the menopause. We do not use synthetic perfumes or colours in any of our products. This means that many of your products have to be used within 6 months of opening (rather than the usual 12) which is a small compromise for healthy skin.