Details
Advanced acne spot treatment device combines the healing powers of thermal eneregy and blue light to clear away or fade most blemishes within 24 hours
This pen-like cosmetic device uses blue light and heat technology.
Acne is caused, mainly, by the bacterium Propionibacterium acnes.
Heat and Blue Light kills the bacteria under skin to treat spots and pimples.
Blue LED light has been clinically proven to kill acne-causing P. acnes bacteria, clearing existing blemishes and preventing future outbreaks.
Gentle warming - Produced by the light energy, opens pores and allows the light to reach more bacteria.
Benefits:
- Safe, effective and easy to use
- Blue light therapy and heat for treating spots
- Effective in the first 24 hours
- Short treatment time (2.5 minutes per spot)
- Gentle on skin
- No irritation, dryness or redness
- For use at home and on the move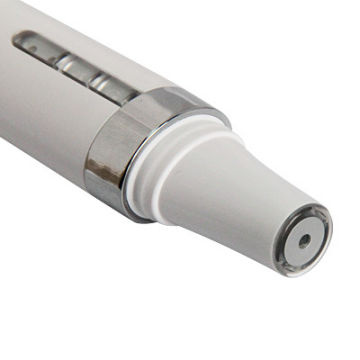 Directions:
The devices treats mild, inflammatory acne (little red zits)
Not recommended for use on severe, nodular or cystic acne.
Please perform a light sensitivity test first
Step 1 - Cleanse the area of your face you wish to treat.
Step 2 - Turn the device on and wait for the top to warm up.
Step 3 - When the device beeps, press the star button. Place the probe firmly on the blemish and hold for 2-3 minutes.
You can repeat the cycle up to three times in 24 hour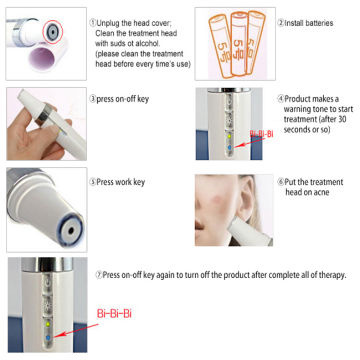 Please click here for Spot Treatment Pen Instructions