Details
Sigvaris Traveno Travel/Flight Socks - The perfect travel companion.
Medically tested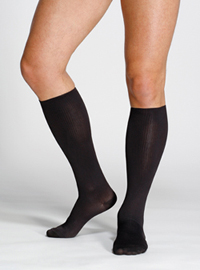 If you are after the best travel/flight sock then look no further. The Traveno, a unisex flight sock made by Sigvaris, one of the world's leading manufacturers of medical compression socks, have used their research to produce the world's best flight sock.
Traveno will come in handy wherever you go.
Intensive graduated support
Reduces swelling
Breathable and easy to clean
Ideal for long journeys
Travel safely with Traveno
Every time you sit for a long period of time without moving your legs, the risk of travel thrombosis increases – whether you're travelling by air, car or train. Swelling and painful legs are possible symptoms. Traveno promotes circulation in your legs by applying gentle pressure.
A scientific study has proven that SIGVARIS Traveno provides considerable health benefits.
Features/benefits:
• Reduces Swelling
• Breathable and Easy Care
• Strong support (15-18 mmHg at the ankle)
• Anatomically distributed compression
• Special knitting in the calf area ensures perfect fit, regardless of calf shape
• Meryl® Skinlife – the innovative yarn made of breathable fibres, for maximum comfort, which also has a bacteriostatic effect and protects against smells and skin irritation
Available in colours:
Black

Marine

Available in 6 sizes, shoe sizes 36-47
1-Euro 36-37 (UK 3.5 - 4.5)
2- Euro 38-39 (UK 5 - 6)
3- Euro 40-41 (UK 6.5 - 7.5 )
4- Euro 42-43 (UK 8 - 9)
5- Euro 44-45 (UK 9.5 - 10.5)
6- Euro 46-47 (UK 11 - 12)
Material composition
79% Skinlife (PA)
13% Lycra
8% elasthan
Innovative Meryl Skinlife yarn is a breathable microfibre which ensures pleasant wearing comfort. It has an anti-bacterial effect and prevents odours and skin irritations.
Washing instructions
High-quality elastic textiles should preferably be washed with a detergent which does not a contain fabric conditioner such as the special washing solution from SIGVARIS.
Product care:
Wash daily by hand or in a laundry bag in a washing machine (delicate wash cycle) at max. 40 degrees
We recommend using our mild SIGVARIS WASHING SOLUTION. Do not use fabric softener!
Please do not put the stockings in the dryer as this will cause them to overheat and generate static electricity. Press the stockings between two dry towels and lay them out to dry in a shady place with plenty of ventilation. Do not place on heaters/radiators.
Do not iron
Do not dry clean.
Do not use chemicals.
Caution:
Sharp fingernails and rings with sharp edges can quickly result in defects. Pay due attention to these risks when donning and removing your stockings. Do not cut off any loose threads inside the stockings.
please note once opened you are unable to return the garment due to hygiene reasons