Details
Sigvaris supplies Rolly, the revolutionary sock puller
Rolly is a revolutionary tool for putting on and taking off compression socks and stockings effortlessly.. The effectiveness of compression products for blood circulation is well known. However, less well known are the difficulties involved in using them. Their benefit is certain, but the number of patients to whom they are prescribed far exceeds the number who actually wear them – and they remain at the bottom of the cupboard. Potential users explain that this is because they are difficult to pull on and take off – especially for the elderly or pregnant women.
Using these facts, SIGVARIS, with its specialty of knowledge in such products, can now supply a "pull-on and take-off" tool for compression stockings, tights and other such products of all types and sizes.
Called Rolly, it consists of a supple membrane filled with soapy water and a ribbed "adhesive" surface. Its great flexibility allows it to curl up indefinitely on itself, thus guaranteeing the user effortless and painless pull-on in record time.
Works with open, closed toe, below knee and thigh high hosiery.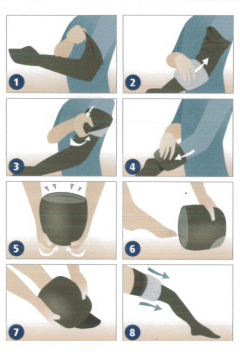 Please note - once opened you are unable to return the rolly due to hygiene reasons.