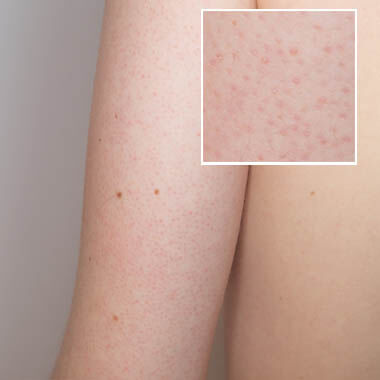 Keratosis pilaris (KP) is a very common skin disorder seen in many people of all ages. It is a skin condition that presents as numerous small, rough, red, or tan bumps primarily around hair follicles on the upper arms, legs, buttocks, and sometimes cheeks. KP creates a "goose bumps," "gooseflesh," or "chicken skin" appearance on the skin.
The exact cause of KP is unknown. There seems to be a problem with overproduction of the keratin part of the skin called hyperkeratinization.
keratosis pilaris responds well to exfoliating agents, such as glycolic acid, lactic acid, and Salicylic Acid , much in the same way as does acne.
AHA's & BHA's can assist in loosening glue like attachements that play a role in abnormal keratinization. Consistent use of exfoliating products can minimize or resolve the grainy skin texture and bumpiness associated with this condition.