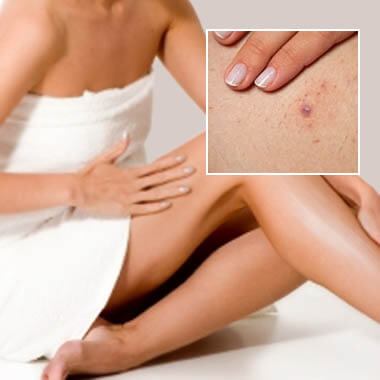 Most people experience ingrown hairs, also known as pseudofolliculitis barbae or razor bumps. Ingrown hairs happen when the end of the hair shaft is shaved very low, curling back into the same hair follicle as it grows.
An ingrown hair irritates the skin. It produces a raised, red bump (or group of bumps) that looks like a little pimple. Sometimes an ingrown hair can form a painful, boil-like sore. In men, ingrown hairs often pop up as a bunch of little bumps on the chin, cheeks, or neck after they've shaved. In women, ingrown hairs are common on the legs.

Daily exfoliating is a key to managing ingrown hairs.
The most effective exfoliating ingredients to help manage and prevent in grown hairs are Salicylic acid
products, Azelaic acid & Glycolic acid

Also PAPULEX products are especially suitable for the care of the skin during shaving . After shaving put the cream/gel immediately on the shaved parts. This way, irritating shaving spots do not even appear.
Folliculitis is an infection of the hair follicles in the skin. Sometimes, antibiotic creams or tablets are needed to treat the infection.