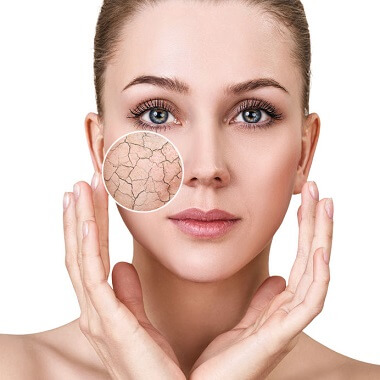 Dry Skin
Dry skin is one of the most common problems that people face at some point in their lives. Factors that contribute to this problem include aging, with age the sebaceous glands start to slow down the production of sebum (oil), prolonged exposure to sun, may decrease the moisture in our skin, cold temperatures including air conditioning may cause dryness and hot temperatures, including central heating may contribute to dry skin.
Dry skins are characterized by a low activity of the sebaceous glands that produce sebum. Sebum is the natural oil produced by the skin that helps in protecting and retaining the moisture of the skin. When the sebum levels are low, the natural protection and the moisture content of the skin is also low, so the skin is prone to environmental assaults, thus the sensitivity of the skin increases, resulting in flaking and tightness of the skin, accompanied by itching, redness, cracking and in more severe cases bleeding and pain.
The ingredients listed below can tackle common dry skin issues by helping skin maintain its moisture levels, strengthening skin's protective barrier and helping to prevent water loss.
– Humectants – Urea, glycerol, hyaluronic acid
– Alpha Hydroxy Acids (AHA's) – glycolic acid, lactic acid
– Beta Hydroxy Acids (BHA's) – salicylic acid
– Enzymes – Papain digests keratin protein
– Lipid enriched – ceramides – to help maintain the skin's natural protective layer
– Niacinimide – It has anti-inflammatory properties
– Fatty Acids – linoleic acid – They act as a barrier and aid permeability of the skin.
– Vitamin C – relieves inflammation and dryness
– Botanical extracts – many are helpful.
Dehhydration
Dehydration on the other hand is a skin condition related to the lost of moisture from the skin. It is very common affecting up to 98% of the population in varying degrees and especially dry skins and mature.
For dehydrated skins (without a dry skin type) it is advisable that they use products with Hyaluronic acid and vegetable glycerin so as to trap moisture in the skin.
What is the difference between dry skin and dehydrated skin?
There is a big difference between dry skin and dehydrated skin. Dry skin refers to skin type, is when the sebaceous glands that produce sebum, the oil, in our skin slow down. However, dry skins tend to be dehydrated. Dehydrated skin refers to a skin that is lacking moisture. The cells in our stratum corneum, the outermost layer of the epidermis are about 10% water. When the level of water drops to under 10% then the skin is classified as dehydrated.