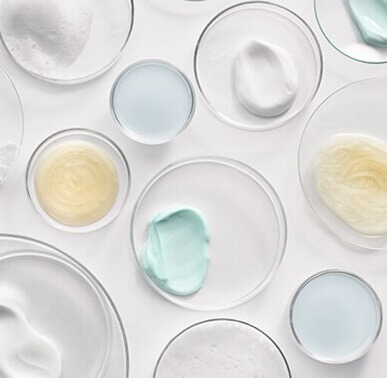 Glycolic Acid (AHA's) Products
Alpha Hydroxy Acid - AHAs are low molecular weight water soluble organic acids that are found naturally occurring in various fruits and foods; e.g. glycolic acid from sugar cane. Alpha hydroxy acids have been used for thousands of years as a skin rejuvenating product. Now hydroxy acids are a common additive to numerous skin care products including moisturisers, cleanser, toners, and masks.
AHAs loosen the glue-like substances that hold the surface skin cells to each other, therefore allowing the dead skin to peel off.
The skin underneath has a fresher, healthier look with a more even colour and texture.
Alpha Hydroxy Acid (AHA's) preparations are recommended for those whose skin is showing signs of ageing.
Fine lines, pigmentation, sun-damage, acne, enlarged pores, blocked pores, scars, and stretch marks can improve with regular use.
With high concentration and long-term use, AHAs may also affect the deeper layers of the skin.
Collagen and elastin regenerate making the skin appear plumper & firmer.

The side effects of alpha hydroxy acids are irritation and sun sensitivity, so it is important to use a high sunscreen daily
Please click here for further information about Hydroxy acids

Glycolic acid, the most common alpha hydroxy acid found in cosmetic preparations, is popular mainly because that is the alpha hydroxy acid that has been the most widely studied. The small molecular structure and the rapid penetration of glycolic acid giving the possibility of irritation make glycolic acid more suitable for those with mature, sun damaged, oily ,acne prone and non-sensitive skin. Alpha Hydroxy Acids are ideal for use with other products since they can enhance the penetration of ingredients into the skin. Glycolic acid is a phenomenal resurfacing agent that can immensely improve the appearance of many skin conditions such as acne, sun damage and hyperpigmentation. It has even proven to be a valuable tool in reducing the depth of acne scarring. Suitable for all skin types except sensitive.