Details
Mascara by RevitaLash is a creamy cosmetic used to separate and darken natural eyelashes.
lengthen ● amplify ● volumize
Define the beauty of your natural eye contours for a stunning, eye-popping finish This high-performance volume-loving, buildable mascara saturates eyelashes with color intensity and definition while conditioning, smoothing and protecting for maximum beauty effects.
High-impact volume • Precision application • Smudge-proof wear
What it does:
It can help with the following cosmetic lash conditions: Thin,Sparse,Light, or Short
It will darken, thicken, lengthen, and define the eyelashes.
It is a clump-free formula.
The custom-designed brush will separate and define eyelashes.
Our custom designed brush will separate and define for an eye-popping finish. Used together with Revitalash®, the results are even more stunning. Mascara by Revitalash® frames your eyes so your true beauty shines through.
Hailed at the GBK Gifting Suites honoring Oscar Nominees! Mascara by Revitalash proved to be a favorite by many of Hollywood's hottest makeup artists.
size: 7.39 mL / 0.25 Fl. Oz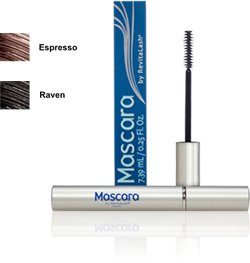 Directions:
Apply by wiggling the wand left to right at the base of lashes.
Pull the wand up and through lashes, wiggling as you go.
In this final step, close the eye and place the mascara wand on top of lashes at the base and pull through to finish.
Q. How do I make my eyelashes look longer with mascara?
A. Place wand near the base of the lash, not the tips… this gives the illusion of length.
Q. Why is the mascara wand so different?
A. The custom-designed brush looks like an hour glass to separate and define your eyelashes.
Q. Is RevitaLash® VOLUMIZING Mascara water proof?
A. No. However, it is water resistant.
Q. Do I need a special eye make remover?
A. No, you can remove RevitaLash® VOLUMIZING Mascara with any remover or soap and water.
Q. How often do I need to replace my mascara?
A. We suggest every 3 months.
Q. Has RevitaLash® VOLUMIZING Mascara been tested on animals?
A. No, RevitaLash® VOLUMIZING Mascara has not been tested on animals.
The Times Magazine features an article entitled 'How to Look Good…Feel Better' which looks at the top five beauty products that the beauty editor recommends.RevitaLash Mascara is recommended as one of them.
please click to view the article(PDF) ...
Bridal Beauty Blogger - RevitaLash® Mascara Fit for a Duchess!