Details
The First Line of Defense for Ingrown Hair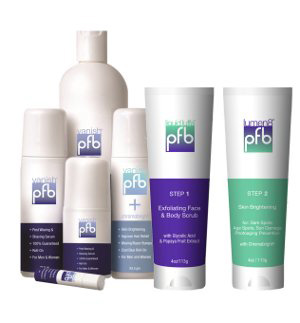 PFB Man Mask - 2oz
Man Mask by PFBVanish soothes and calms irritated skin from waxing and shaving!
This alcohol-free, hydrating and calming treatment cream for all skin types.
Use on face and body after any type of hair removal such as shaving, waxing, laser. Effective even on coarse hair.
Contains Resorcinol & Retinyl Palmatate to help prevent and treat bumps.
Refreshing peppermint cools the skin.
Will not interfere with aftershave.
3 Calming Ingredients:
Chamomile
Anti-Inflammatory
Antiseptic
Antibiotic
Pain Killer
Aloe
Anti-Inflammatory
PH Balancer
Aids In Skin Repair
Almond Oil
Anti-Inflammatory
Skin Lightening
PH Balancer
Directions:
It should be applied directly after treatment to help calm and cool the treated area. It also has our special ingredients to help eliminate ingrown hairs and subsequent razor bumps.
We also recommend