" The natural alternative for acne prone skin"
Papulex ® – Innovative formulation for acne and is the largest selling product range for acne in France
Papulex is a range of dermocosmetic line products specifically targeted at cleansing, hydrating & protecting acne prone skin.
Papulex can be used alone or in combination with conventional acne therapy. Papulex represents a complete daily management of signs and symptoms of light to moderate acne thanks to a unique combination of anti-inflammatory & anti-adhesive barrier ingredients.
Papulex® UV High Protection Cream SPF30 50ml tube
Helping to reduce blemishes by protecting the skin from the sun.
Papulex UV proptects the skins with imperfections from the harmful effects of the UV rays through its high protection SPF 30, while having both mattifying and moisturising capacities, to help the spots to disappear without drying the skin out.
size: 50ml
Benefits:
Fragrance free
Non photosensitising
Paraben free
Non comedogenic
Contains:
Nicotinamide 4%
Anti-Bacterial Adhesive substance (ABA) 1%
Shea butter
Directions:
suitable for acne prone skin
Apply daily after Papulex Oil Free Cream or Papulex Isocorrexion cream to protect acne-prone skin from sun-induced irritation and damage.
Repeat every two hours, extreme heat, after bathing, any sporting activity or extreme perspiration.
For more information Please click on
Papulex Fact Sheet
Papulex FAQ's
Papulex Success Stories
Papulex Review
Papulex is clinically proven to help clear blemishes
85% of physicians and 79% of patients find Papulex® effective (n=514)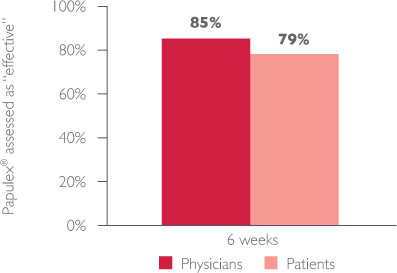 "Papulex® is specifically formulated to care for acne-prone skin. Rather than stripping skin of moisture, Papulex® hydrates and soothes problem skin and helps prevents irritation. Papulex® is gentle and it works, which is why it's the skincare regime I recommend to patients looking for an effective acne treatment," says Dr Farah Meher-Homji, Cosmetic Physician at the Cosmos Clinic.
Dr Farah Meher-Homji
Papulex Brand Ambassador
What makes Papulex different?
What makes Papulex different? - Power of 3. Calms, controls and clears acne prone skin
- The Papulex® range is specially formulated for acne-prone skin
- Ideal for all skin types including normal, oily, combination and dry skin types
- Helps clear skin blemishes
- Contains moisturisers to hydrate and soothe the skin
- can be used day and night
- Non comedogenic*- will not clog pores
- Fragrance free
- Can be used alone or in conjunction with other acne products
Similar Products You May Like