" The natural alternative for acne prone skin"
Papulex ® – Innovative formulation for acne and is the largest selling product range for acne in France
Papulex is a range of dermocosmetic line products specifically targeted at cleansing, hydrating & protecting acne prone skin.
Well-supported by clinical studies, PapulexTM is proven to be effective in preventing acne with the Power of 3 active ingredients Nicotinamide, Anti-Bacterial Adhesive (ABA) substances and Zinc PCA.
EU-patented technology, ABA is uniquely found in PapulexTM and works to inhibit and block proliferation of p.acnes bacteria to eliminate blemishes. Nicotinamide reduces inflammation and Zinc PCA helps to decrease sebum secretion.
Papulex can be used alone or in combination with conventional acne therapy. Papulex represents a complete daily management of signs and symptoms of light to moderate acne thanks to a unique combination of anti-inflammatory & anti-adhesive barrier ingredients.
CLEANSE - Papulex® Moussant Soap Free Cleansing Gel (150ml)
Papulex® Moussant Soap Free Cleansing Gel (150ml) helps reduce skin blemishes while gently cleansing and moisturising the skin. Recommended to be used morning and night to help clear blemishes and help prevent future breakouts. The Papulex® Moussant cleansing gel contains moisturising agents to hydrate and soothe leaving skin smooth and refreshed.
 - Helps reduce skin blemishes
 - Gently cleanses the skin
 - Soothes and moisturises
 - Gentle soap-free formula
size:150ml
Directions:
Suitable for oily or acne-prone skin
Apply morning and evening to damp skin by massaging delicately. Rinse thoroughly and dry without dragging skin. Can be used in the shower. Should contact with the eyes occur, rinse immediately with water.
Also effective to treat and prevent Folliculitis after shaving.
PAPULEX is especially suitable for the care of the skin during shaving. Apply the skin cleanser before shaving and put the gel or cream on immediately after on the shaved parts. This way, irritating shaving spots do not even appear. (Also suitable for the bikini area and arm pits)
For more information Please click on
Papulex Fact Sheet
Papulex FAQ's
Papulex Success Stories
Papulex Review
Papulex is clinically proven to help clear blemishes
85% of physicians and 79% of patients find Papulex® effective (n=514)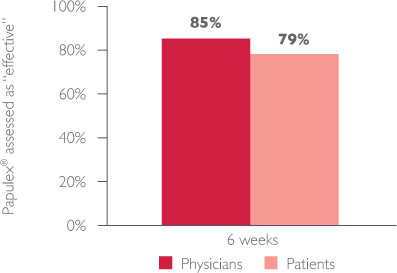 "Papulex® is specifically formulated to care for acne-prone skin. Rather than stripping skin of moisture, Papulex® hydrates and soothes problem skin and helps prevents irritation. Papulex® is gentle and it works, which is why it's the skincare regime I recommend to patients looking for an effective acne treatment," says Dr Farah Meher-Homji, Cosmetic Physician at the Cosmos Clinic.
Dr Farah Meher-Homji
Papulex Brand Ambassador
What makes Papulex different?
What makes Papulex different? - Power of 3. Calms, controls and clears acne prone skin
- The Papulex® range is specially formulated for acne-prone skin
- Ideal for all skin types including normal, oily, combination and dry skin types
- Helps clear skin blemishes
- Contains moisturisers to hydrate and soothe the skin
- Can be used day and night
- Non comedogenic*- will not clog pores
- Fragrance free
- Can be used alone or in conjunction with other acne products
Similar Products You May Like