Details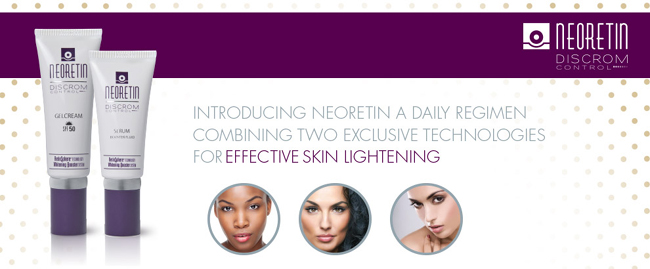 Neoretin Fluid Booster Serum is a concentrated, fast absorbing fluid with an exclusive combination of anti-spot and anti-ageing technologies.
It is formulated with the novel RetinSphere Technology, with major exfoliant and rejuvenating activity. Booster Whitening System also contains a potent depigmenting system with six powerful ingredients which intervene in all stages of the production of melanin. Applied every night helps achieve a remarkable control of cutaneous depigmentation.
Benefits of Neoretin Discrom Control Serum Booster Fluid:
•Supports epidermal exfoliation and renewal. Acne and wrinkles are smoothed and the skin becomes smooth and bright.
•Prevents the formation of melanin. The spots are reduced and skin tone becomes more even.
Key ingredients:
Retinol
Niacinamide
Kojic Acid
N-Acetyl Glucosamine
Retinol Glycospheres
size:30 ml
Directions:
Apply to the face and neck after cleansing in the evening. If skin becomes irritated or develops a rash, stop using immediately. To maintain product efficacy store below 40˚C.
For best results use this product in the evening alongside the NeoRetin GelCream SPF50 which is to be applied in the morning. Do not layer these two products together. Expect to see significant results in around 12-14 weeks.
For further information please click on the following links below:
NeoRetin Brochure
Caution:
Don't forget to always apply a high sunscreen daily.
Do not use if pregnant/breast feeding
Safety and use warning and considerations
Vitamin A Products that contain Vitamin A (including Retriderm, Endocare CELLPRO, NeoRetin and BiRetix) must have the following text bought to the attention of the consumer before they purchase the product.
"This product contains Vitamin A. If you are pregnant, breastfeeding or considering becoming pregnant we recommend that you do not use this product.
Please also be aware that Vitamin A helps to normalise skin cell activity, and as such increases the production of new skin cells. This may provide some short-term dryness. If irritation or persistent dryness occurs, reduce the frequency of application while the skin returns to normal, then resume use, building back up to the recommended usage. Always read and follow the directions for use on the product packaging.
Vitamin A can also make the skin more sensitive to daylight, always apply high level, broad spectrum sun protection such as Heliocare 360˚ to the skin every morning to prevent any inflammation and damage that can occur as a result of this increased sensitivity."