Details
Only available for sale to customers living in the UK and Ireland
For outside the UK & Ireland please call 03330 14 24 34


CLEANSE

White Balance Cleanse
Brightening micro-exfoliator
Professional strength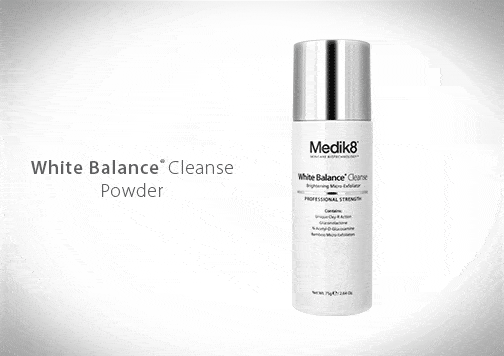 White Balance Cleanse is the ultimate brightening, powder-to-foam exfoliating cleanser.

A gentle yet effective daily exfoliating cleanser infused with patent pending Oxy-R (oxyresveratrol) to offer dual cleansing action to the skin helping to improve the appearance of pigmentation, uneven skin tone and blotchiness. Its unique powder texture transforms into a light foam instantly leaving skin brighter, smoother and deeply cleansed.

BENEFITS:
●A unique transforming powder-to-foam texture
● Provides a dual cleansing action to the skin: cleansing and exfoliation with physical microexfoliators and hydroxy-acid (gluconolactone) chemical action
● Contains Oxy-R (oxyresveratrol) in a patent pending formula to stabilise oxyresveratrol, a powerful skin brightening agent to help inhibit the melanin
● The formula can be used every day as it gently removes dead skin cells and impurities without drying the skin
● Leaves skin smooth, brighter and deeply cleansed
● Improves uneven skin tone
Ideal for travel (No liquid < 100ml)

KEY INGREDIENTS:

● Oxy-R (Oxyresveratrol) : Oxy-R patent pending formula, patent pending skin brightening agent helps to inhibit melanin production to lighten skin complexion.
● Gluconolactone : poly-hydroxy acid that exfoliates and breaks down stubborn melanin deposits.
●Bamboo extract : Extracted from bamboo stems in the form of micro-fine particles that physically slough off dead skin cells from the skin's surface. It also refines skin texture and brighten skin tone.
● N-acetylglucosamine : This monosaccharide derivative of glucose has been shown to reduce hyperpigmentation via topical use by inhibiting melanin production in melanocytes.
● Volcanic perlite : Mineral particles that provide gentle exfoliation removing dead skin cells and stimulate cell renewal of the top layer of skin. It refines skin texture and leaves skin smooth and brighter.

Size: 75ml
Up to 60 applications

Directions:
Suitable for daily use
Every morning and evening: pour a small amount into the palm of the hand and add a few drops of warm water.
Gently rub hands together to activate powder and create a creamy texture, adding more water if necessary.
Massage in gentle circular motions, avoiding the eye area and rinse thoroughly.
Follow with your regular Medik8 serum and/or hydrator.
- Daily gentle cleansing with a level teaspoon.
- Weekly deeper exfoliation with a level 2 teaspoons.
For best results use with other White Balance pigmentation products: White Balance Click Oxy-R Serum and White Balance Duo (day/night)
Treat yourself to a daily facial! Pair with DermaTool Pro for a deep-cleanse.