Details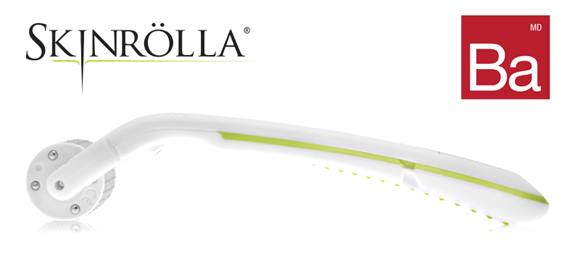 Skinrölla - The UK's first CE-Marked Medical Device for Skin Needling
Dramatically rejuvenates fine lines and wrinkles, acne scarring, stretch marks and sun-damaged skin. Ideal for both home and clinic use. It's a simple and quick way to achieve a beautifully clear, rejuvenated complexion while simultaneously enhancing the absorption of everyday products such as moisturisers.
Uneven complexions can be difficult to mask with makeup and can prove even harder to treat effectively long term. With Skinrölla the skin can be encouraged to heal itself, providing a noticeable improvement to tone and texture after just a couple of uses.
The handheld device is comprised of an ergonomic non-slip grip handle and medical grade titanium alloy needles that gently penetrate the skin, instigating a natural healing process that boosts healthy cell production. Skinrölla is a safe aesthetic device to create smoother, brighter, younger-looking skin.
The barrel of the Skinrölla holds precisely distributed rows of micro-needles that are utilised when rolled across the surface of the skin. This creates minuscule tunnels in the skin that incite a natural wound-healing response, encouraging healthy collagen growth and elastin synthesis to smooth the overall texture and tone.
Skinrölla Home Use is provided in two sizes, 0.2mm or 0.3mm. (0.2mm for sensitive skin types or new users)
So what is Skin Needling?
Skin Needling is an incredibly simple procedure that has been clinically successful in improving various complaints for all skin types. It provides a non-invasive treatment option for achieving a smooth, rejuvenated complexion.
The treatment involves working a slim barrel holding precisely distributed rows of micro-needles across the surface of the skin. These needles puncture the epidermis, instigating a safe wound-healing response that incites healthy collagen growth and elastin synthesis.
The precisely aligned medical grade titanium/stainless steel alloy needles are completely safe to use on all skin types. The treatment not only helps heal the skin's imperfections, but also improves the absorption of products for additional benefits. Moisturisers and cleansers will penetrate further into the skin, enhancing the condition for long-lasting results.The effectiveness of Skinrölla has been clinically proven as it works with the natural processes of the body, rejuvenating the surface for a radiant glow. Perfect for anyone wishing to boost their weekly skincare regimen.
The result is smaller pores, softened imperfections and a revitalised, youthful look to the skin. Products are also absorbed easier, raising the level of moisture retained within the skin and therefore protecting even further against the signs of ageing.
Skin Conditions That Benefit From Skinrölla
If used regularly, Skinrölla can provide noticeable improvements in the following skin conditions:
Fine Lines
Uneven Skin Texture
Large Pores
Wrinkles (clinic treatments)
Sun Damage (clinic treatments)
Hyperpigmentation(clinic treatments)
Acne Scarring (clinic treatments)
Injury Scarring(clinic treatments)
Stretch Marks (clinic treatments)
Home kit contains:
1x Skinrölla handle with replaceable head system.
1x Sanitising spray
2 x 15ml Cleaning Solution
Instruction leaflet
This variant is for multiple uses as the 0.2/0.3mm length needles can be cleaned and/or replaced.
Replaceable Head System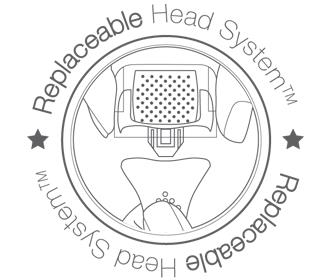 For further information please click on the links below:
About Skinrolla Microneedling
Skinrolla Directions
Precautions & Contraindications

If you would like some advice please email advice@dermacaredirect.co.uk
To clean the Skinrölla:
Sanitise after each application:
1. Rinse in cold boiled water
2. Spray the roller head three times with the Skinrölla Sanitising Spray
3. Leave to dry in air, then store in the protective cleaning bath and replace cover lid
Deep clean every five applications:
1. Place the roller head in the protective cleaning bath and pour the Skinrölla Cleaning Solution to the arrow tip.
2. Fill the protective cleaning bath with cold boiled water until all needles are covered, place on cap securely and gently shake for five seconds.
3. Leave to soak for twenty minutes.
4. Remove the roller head and gently scrub with a toothbrush as required to remove dirt and grease. Rinse both the protective cleaning bath and roller head with cold boiled water.
5. Follow sanitising protocol before storing