Treat Hyperpigmentation with iS CLINICAL White Lightening Serum 30ml
Targeted Brightening, Safe Lightening
Clinical studies show a reduction of discolouration and hyperpigmentation by 75% in only 3 months.
This concentrated lightweight serum treats and prevents hyperpigmentation, provides controlled exfoliation and gently resurfacing benefits. A highly powerful blend of Norwegian sea kelp extracts and potent botanical acids to lighten and smooth the skin
Size: 30ml
A 15ml iS Clinical White Lightening Serum is also available.
3.4 PH
Benefitst of using White Lightening Serum
Reduces Hyperpigmentation
Speeds up exfoliation
Helps reduce pore size
Helps control hyperpigmentation production
Use as intro to COMPLEX or as 24 hour booster to hyperpigmentation regime.
White Lightening Serum Ingredients
Ascophyllum Nodosum Extract (Norwegian Kelp) 2.0%
Helping to remove pigmented areas.
Saccharum Officinarum (Sugar Cane) Extract
(source of Glycolic Acid) 2.0%
Vaccinium Myrtillus (Bilberry) Fruit/Leaf Extract
(source of Lactic Acid) 2.0%
Salix Alba (Willow) Bark Extract
(source of Salicylic Acid) 1.0%
How to apply White Lightening Serum
Avoid eye area and apply at night, followed by a moisturiser. Place 2-3 drops on back of hand to then apply sparingly to clean skin over the face or affected areas. For best results use as guided by an aesthetic practitioner or as part of the IS Clinical Hyperpigmentation regime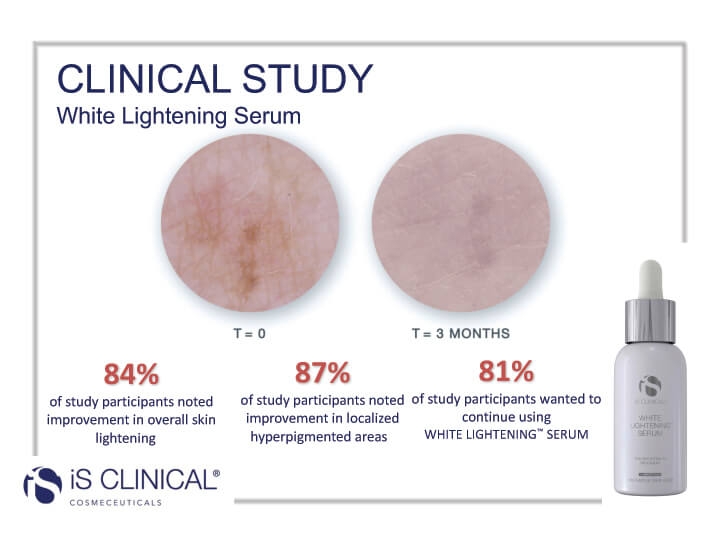 Pigmentary Disorders White Paper & White Lightening Serum Clinical Study (PDF file)
Similar Products You May Like
Do You Experience Any Sensitivity?
Yes

Only Around The Eyes

Facial Areas

No
Do You Experience Acne Breakouts?
Which Of These Skin Conditions Are You Concerned About?
Redness

Oil Control

Large Pores

Dull Complexion

Dark Spots

Sun Protection

Fine Lines

Firmness/Lift/Elasticity
Search Product By
Skin Type