Details
LIP VOLUME
Dermo-Cosmetic Filler Treatment for lips with 6 highly penetrating Hyaluronic Acids

Fillerina Lip Volume Roll On Dosage 2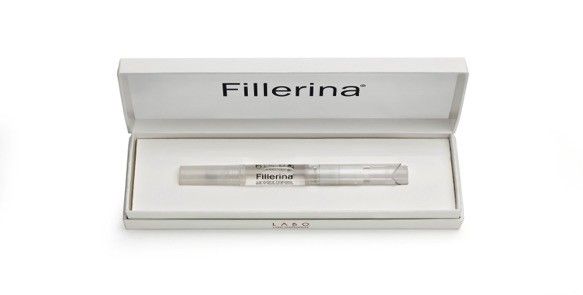 Lips have always been a very important area of the face. Their fullness, turgor and definition strongly contribute to improve the beauty and the appeal of face expressions. This is why aesthetic medicine interventions that reshape and increase the volume of lips are in high demand. The cost of a single session of hyaluronic acid injections starts from about £300 and it must be repeated at least 3-4 times in order to obtain the desired results. Unlike other anatomical parts of the body, lips do not have the latest skin layer, where keratin lies: this way they are more delicate and exposed to atmospheric and environmental factors. Lips ageing causes a lack of volume and fullness in the mucous membrane, with a subsequent emptying that facilitates the creation of micro-wrinkles. But they can be very thin also for physiological causes because of a scarcity of extracellular matrix, hence the necessity of having more voluminous, plump and full lips.
On the strength of in-vivo results obtained with Fillerina Face Gel, Labo researchers developed a specific dermo-cosmetic treatment for those people who look for more volume, a more precise definition and a younger look. The formulation combines different quantities of the 6 hyaluronic acid molecules with different molecular weights to fit the thin lip skin, thus assuring a high level of absorption and the subsequent lip filling.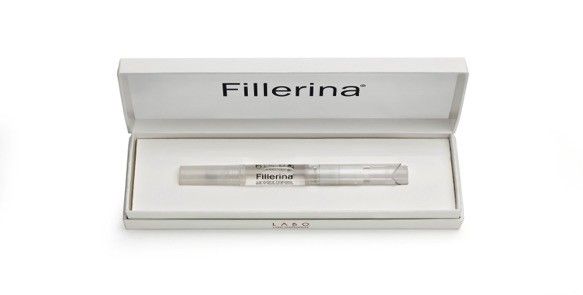 Available in two dosages, so you can tailor how dramatic an effect you'd prefer.
Dosage 1
Dosage 2
Dosage 3
Size : 5ml
Fillerina Lip Volume consists of a particular applicator with airless container and a plunger that facilitates an adequate emission of product. The steel ball tip helps a precise and comfortable application.
How to use: The special applicator of Fillerina Lip Volume contains 5 ml of gel filler. To properly spread the product, press repeatedly but gently on the plunger located at the end of the applicator. A fair amount of gel will exit from the metal ball tip.
Apply at least 5 times a day on clean lips, spreading an uniform and consistent layer of gel. Let the active ingredients penetrate for few minutes before applying any lipstick or lipgloss. It is recommended to apply the product for a month. During the cycle of applications it is advisable to drink large quantities of water.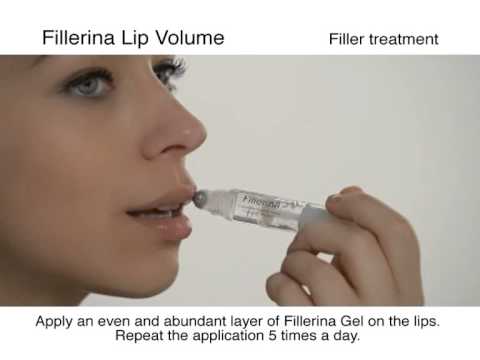 Fillerina In the Press...
Independent Online
Click here to read Emily's review of the Fillerina Lip Volume