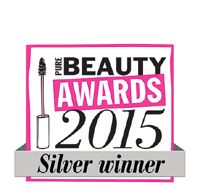 DermaTx Brighten Microdermabrasion cream
**Silver Winner for Best New Premium Skin Care Product ‪at the Pure Beauty Awards‬ 2015**

DermaTx Microdermabrasion – Professional results at Home

DermaTx Advanced Skincare brings you the benefits of microdermabrasion by introducing its new range of microcrystal cosmeceutical creams for use in the comfort of your own home.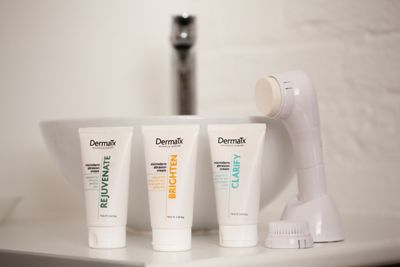 The products are unique in that each variant has been specifically designed with formulations containing scientifically proven active ingredients to target certain skin types:

Brighten (with SABIWHITE®) – Designed for uneven skin tone, sun-damaged and ageing skin.

Clarify (with 2% Salicylic acid) – Designed for acne, oily skin and enlarged pores.

Rejuvenate (with Antioxidants) – Designed for normal to sensitive skin.

The treatment creams contain professional grade corundum (aluminium oxide) crystals – the same as those used in microdermabrasion machines used in dermatology clinics – for exceptional skin resurfacing results but at a fraction of the cost of just one clinic treatment.

The beneficial results can be seen immediately as the dead skin cells are removed to improve the texture and smoothness of the skin and radiant, glowing skin is revealed.

Once the dead cells are removed, the active ingredients found in the specifically designed creams can go deep into the newly revealed skin to effectively target the problems being addressed and to help eliminate imperfections.

Achieving smoother, younger-looking skin in the comfort of your home has never been easier!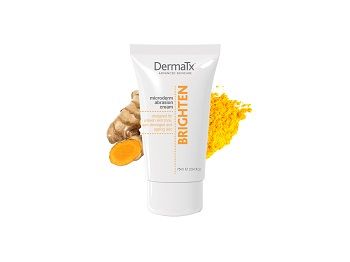 DermaTx Brighten Microdermabrasion Replacement Cream 75ml (3/4 month supply)

Designed for uneven skin tone, sun-damaged and ageing skin.

Dramatically resurfaces skin texture, Fades discoloration, evens skin tones and improves the appearance of sun damage , fine lines and wrinkles.

Microdermabrasion offers the benefit of improving Post inflammatory pigmentation (Acne scarring) and overall skin clarity, as well as uncovering soft, smooth and flawless skin

Brighten Microdermabrasion Cream contains professional grade corundum crystals, as used in salon microdermabrasion machines for exceptional skin resurfacing results.

Brighten has the additional benefits of intensive skin Brightening agents to improve skin texture and tone.With a blend of protective antioxidants to fight the damaging effects of free radicals through sun-exposure. Infuses skin with powerful moisturising ingredients to deeply hydrate.

BENEFITS:

- Sabiwhite™, a proven, safe and effective natural skin Brightening agent.

– Vitamin A exfoliates the skin, increases cell turnover and reduces the appearance of fine lines, wrinkles and pigmentation

– Effective on pigmented areas to help improve overall skin tone and texture

– Dramatically brightens the complexion giving the skin a radiant glow

– Exfoliating effects remove visible signs of photoageing

– Intensely hydrates the skin leaving it supple and smooth

– Enhances absorption of skincare products

– At-home alternative to professional microdermabrasion treatments

Dermatologically tested

Caution: Do not use if you are pregnant.Do not use on Rosacea, active Acne, Open Sores, irritated skin or other dermatology skin conditions. Do not use following chemical peeling or retinol.

Which System to choose?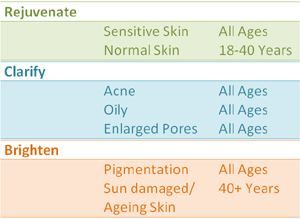 How to use:



Directions: Apply a small amount of cream to clean moistened face (forehead, cheeks, chin and nose) lightly massage into skin using circular motions with either your fingers or with a DermaTool for approximately 2 minutes. Rinse off the remaining crystals residue with warm water. Dry face and apply moisturiser then sunscreen. Use 2 or 3 times a week.

Why use a DermaTool for application?
When the DermaTx Microdermbrasion cream is applied to the specially designed foam attachment the crystals become embedded in the "micro-pores" of the foam. This ensures that the crystals will haven even movement over the surface of the skin and will be utilized to their maximum refining capabilities.
Micro-massaging of the corundum crystals in DermaTx Microdermabrasion Creams provides a superior microdermabrasion treatment, and allows the ingredients to penetrate deeper into the skin.

For further information please click on the following links below:
DermaTx Brochure
Key Ingredients
Why use the DermaTx Applicator
FAQ's
clinical evidence

If you need any advice regarding which microdermabrasion to purchase please email [email protected]

In the Press....
Product Review by Award winning makeup artist Sarah Brock
Andrea's Review of the DermaTx Microdermabrasion Brighten System

In the Press....
Magazine Press
Beauty Bloggers Reviews
Andrea's Review of the DermaTx Microdermabrasion Brighten System




Similar Products You May Like