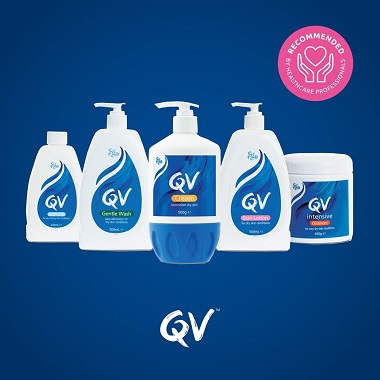 QV Skincare - For Dry Skin Conditions
Emollient therapy is one of the best ways to relieve discomfort and manage skin conditions such as eczema, psoriasis and dermatitis, using a 2-stage routine of cleansing and moisturising to protect sensitive skin and to help repair and relief.

A combination of QV cleansers and moisturisers helps repair and rehydrate skin using glycerol, a naturally occurring humectant that isn't greasy, doesn't block pores and helps the skin retain moisture to protect against irritation, leaving it feeling smooth and soft.
The QV range is also free from SLS (sodium lauryl sulphate, which is found in some soaps and can irritate the skin) and from fragrance, colour, lanolin and propylene glycol.