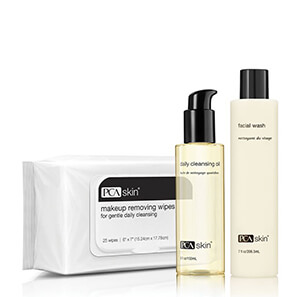 Wash off all of the impurities that can lead to troubled skin with the PCA SKIN Cleansers system. These cleansing products glide on smooth and wash away completely without leaving behind any greasy, pore-clogging film. In addition, the cleansers perform double-duty, addressing a multitude of other common skin concerns.

PCA SKIN Facial Wash is the perfect cleansing solution for those with normal skin. As its gentle cleansing formula removes dirt and debris, the product subtly adjusts the acidity of the skin to change the pH and balance the complexion. Soothing aloe vera contained in the gel also helps eliminate redness and irritation. The blend of ingredients also includes lactic and citric acids to assist with natural exfoliation.

The PCA SKIN Facial Wash Oily Skin formula is similar to the effective original product, but contains ingredients enhanced for those affected by excessive oil. The powerful ingredients in the formula are ideal for those who develop acne in the "T" zone of the forehead, nose and chin. While removing unwanted oil, the facial wash also works within the skin to limit the amount of oil produced, reducing the number of future breakouts.