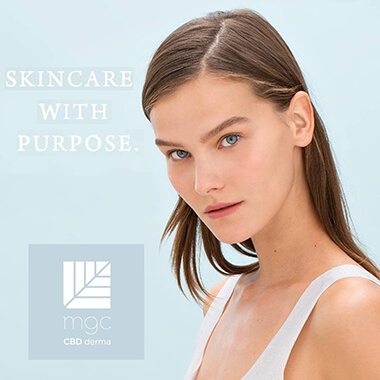 Medical Grade Cannabis Skincare
mgc derma is leading the way in cannabis-infused skincare. A non-psychoactive part of the cannabis plant, CBD (otherwise known as cannabidiol), provides amazing skincare benefits to target several skin conditions like acne and psoriasis, as well as skin ageing. Every MGC Derma product delivers the highest quality patented CBD formulation for skincare beyond compare.
CBD is a powerful antioxidant that has a calming and anti-inflammatory effect. Together with the other ingredients such as hyaluronic acid, blue lotus, retinol, vitamins C and E, green tea and grape seed oil, this provides a nourishing care for the skin that can prevent, reduce and repair cell damage naturally.
mgc never test on animals and all of their packaging is eco-friendly, sustainable, and recyclable.
There are three ranges – Ageless, Everyday, and Revive