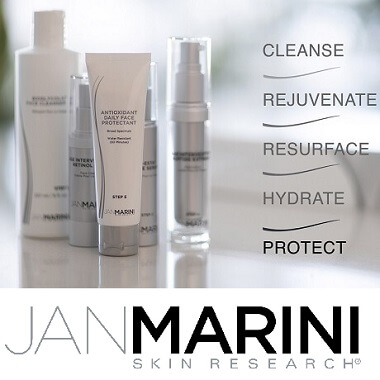 The award winning Jan Marini Skincare Range is available to purchase online & in person from our Leicestershire Clinic.
The Jan Marini Skincare Management system can greatly improve the appearance of sun damaged skin, skin discolouration, wrinkles, Rosacea, acne and acne scarring.
For further information please click on link below :
Jan Marini Brochure(pdf)
Jan Marini Skin Research (JMSR) is known for its effectiveness by its rigorous testing and analysis of its uniquely formulated products. Jan Marini continues to work with some of the world's most renowned skin experts to create a portfolio of amazing skincare products. The products are formulated to help with skin problems such as pigmentation, rosacea, acne and sun damaged skin.
THE BEST ANTI-AGING SKIN CARE SYSTEM SOLD AT A DOCTOR'S OFFICE
WINNER 9 CONSECUTIVE YEARS
Experience dramatic transformation with The Skin Care Management System and see firsthand why it has been voted "The Best Skin Care System" nine consecutive years as part of NewBeauty Magazine's Annual Beauty Choice Awards.
Rapidly improve the appearance of fine lines & wrinkles, uneven texture and sun-damage wrinkles. Key technologies work synergistically to provide maximum results across multiple skin concerns. This comprehensive system incorporates Vitamin C, peptides, growth factors, AHA and BHA exfoliators, hydrators and sunscreen to deliver rapid improvement in the appearance of fine lines & wrinkles, uneven texture and sun damage.