Cleansers & Toners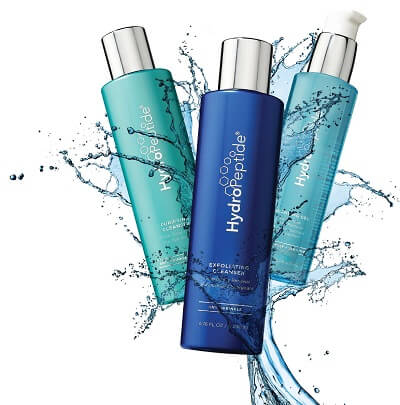 HydroPeptide Cleansers sweep away impurities, leaving skin clean, clear, and ready to receive the full benefit of the other products in your beauty routine. The natural ingredients in HydroPeptide Cleansers revive and refresh tired, lifeless skin.

HydroPeptide Cleansers remove the buildup of dead cells and encourage the skin to produce new cells. By clarifying and purifying the skin, HydroPeptide
HydroPeptide Cleansers sweep away impurities, leaving skin clean, clear, and ready to receive the full benefit of the other products in your beauty routine. The natural ingredients in HydroPeptide Cleansers revive and refresh tired, lifeless skin.

HydroPeptide Cleansers remove the buildup of dead cells and encourage the skin to produce new cells. By clarifying and purifying the skin, HydroPeptide Cleansers deliver youthful, radiant skin that glows with health.
(Read More)
Do You Experience Any Sensitivity?
Yes

Only Around The Eyes

Facial Areas

No
Do You Experience Acne Breakouts?
Which Of These Skin Conditions Are You Concerned About?
Redness

Oil Control

Large Pores

Dull Complexion

Dark Spots

Sun Protection

Fine Lines

Firmness/Lift/Elasticity
Search Product By
Skin Type