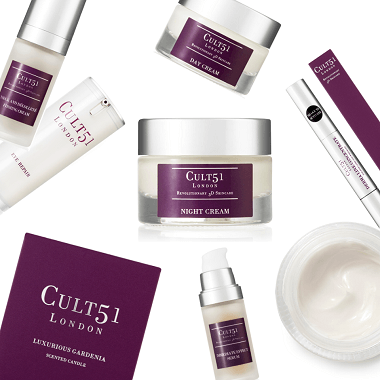 CULT51 is an independent British beauty brand that offers a collection of highly advanced skincare products.
The founder, Richard Mears, has been in the beauty industry for over 25 years, working with global brands to produce some of the best-selling skincare products on the market.
A few years ago, Richard was challenged to create an all-in-one skincare cream that combined the latest technology and the highest quality anti-ageing ingredients. The result? CULT51 Night Cream. It took the beauty world by storm and achieved outstanding results in independent clinical tests.
CULT51 Night Cream
Two years in development, CULT51 Night Cream isthe HERO product of the brand. It contains scientifically advanced ingredients at highly concentrated levels, providing over 51 anti-ageing benefits and giving long-lasting results.
Designed as an all-in-one treatment, the CULT51 Night Cream simplifies your daily skincare routine, eliminating the need for multiple products. The multitude of active ingredients packed into the product work together with your skin's own metabolism to provide a number of long-lasting, anti-ageing, skin benefits.