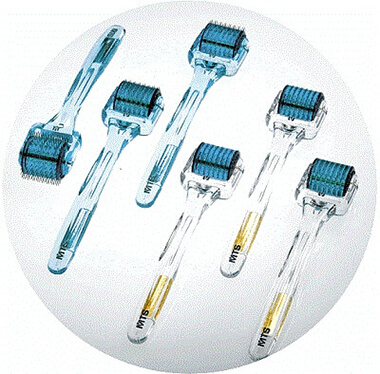 Clinical Resolution Laboratory
US based company Clinical Resolution Laboratory developed the first generation of the Microneedle Therapy System or MTS-Roller™ in 2004, marketed for the treatment of Medical Skin Needling.
For further information please click on the links below:
Micro-needling information
More of Andrea's Derma Roller Tips & Video's

The MTS-Rollers™ are equipped with 200 needles, made from surgical stainless steel, mounted along a 21.5mm wide roller with 8 needles per horizontal row; this is the highest number of needles of any medical skin needling roller on the market, according to the manufacturer.

They create miniscule holes of 0.07mm diameter with a penetration depth of between 0.13mm and 2.5mm.

•MTS Roller lasts longer than other rollers – our patented design and superior materials gives MTS Roller twice the lifespan of most other roller brands – up to 6 months if you follow our simple cleaning and care instructions.
•MTS Roller is the highest quality roller on the market today – only MTS Roller is made from surgical quality Lexan (compare with other rollers made from ABS plastic or resin), and the highest quality surgical steel available in the world.

•MTS Roller is a safer product than other rollers – manufactured under strict ISO9001 standards in our own high-tech clean room facility.