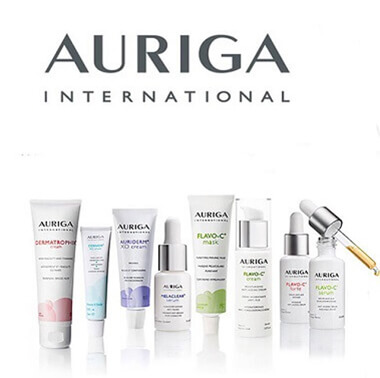 AURIGA INTERNATIONAL - MEDIGRADE AESTHETIC PROFESSIONAL PRODUCTS
Introducing the Auriga range of essential skincare treatments
Started in 1997 by Belgian Alfred Marchal, Auriga International quickly established itself as a leading player in the global cosmeceutical market. Its first & flagship range, FLAVO-C is a vitamin C enriched anti-ageing serum. Another best-seller is CERNOR, for under-eye circles. All their products are rigorously tested for efficacy & recommended by dermatologists world over.
FLAVO-C collection
As we age, collagen formation is reduced and the skin's elasticity decreases. Exposure to environmental elements like sunlight, air pollution and smoke cause oxidative damage to the skin accelerating the ageing process.
Vitamin C (Ascorbic Acid) is the skin's most effective natural anti-oxidant and is essential for photo-damage repair and for the formation and stabilisation of collagen. Vitamin C levels decrease significantly as we age; most rapidly in the face and UV exposed skin. L-Ascorbic Acid is the form of Vitamin C that is proven to penetrate, protect and repair the skin.
Flavo-C serums provide essential anti-ageing treatments. They are expertley formulated to optimise the efficacy of L-Ascorbic Acid and provide powerful plant-derived anti-oxidants.

With regular twice daily use these great feeling serums elevate and stabilise Ascorbic Acid skin levels, helping improve collagen structure and provide essential photo-damage defence and repair.

For more information please click on Flavo-C Brochure
AURIDERM Collection                                               
Auriderm XO is a unique Vitamin K Oxide emulsion gel formulated to help bruises look better faster. 

•Accelerates the disappearance of bruises
Reduces redness (rosacea, purpura, etc.)
•Post-injection and post-surgery treatment

For more information please click on Auriderm Brochure 
CERNOR Collection                                                       
Cernor XO unique dual action helps improve how dark circles look. For more information please click on Cernor Brochure