Details
Baby Quasar Pure Rayz for Wrinkles
Skin Rejuvenating Red light smooths fine lines, wrinkles and improves skin texture & tone.
A NEW FRESH FACE PHILOSOPHY
Compare Pure Rayz to other equally-priced anti-aging light therapy tools and that's the only comparison you will find – cost. Pure Rayz outshines the competitor's tools as the most effective and powerful, anti-aging light therapy tool available without a prescription to treat wrinkles. We didn't stop there. Designed to treat the entire face, it is FDA-cleared and offers an industry-leading, 5-year "fix or replace with no questions asked" warranty. And Pure Rayz LEDs emit only natural wavelengths of light, making it completely safe to use with over-the-counter topical products and causes no extra sun sensitivity. It is sized for portability and comes with dual-voltage power source for international usage, and is hand assembled from the highest quality ABS plastic or durability.
WHAT TO EXPECT WITH YOUR NEW PURE RAYZ
As we age, the production of collagen and elastin — the key building blocks of healthy skin — in the body slows. Medical science proves the production of new collagen and elastin result from the combination of red, super red, amber, and infrared light upon application to affected skin. PureRayz has a specific initial treatment time and after eight weeks, only minimal touch-ups are needed to sustain the results. Three minutes per area is all it takes to start achieving noticeable results.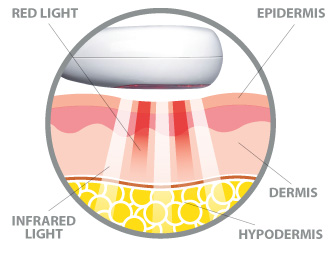 Facts and Benefits:
◦An effective, powerful, anti-aging light therapy tool
◦FDA-cleared for the treatment of wrinkles anywhere on the face
◦Provides a soothing, comfortable and gentle warming sensation
◦Perfect for all adults desiring to reduce the appearance of existing facial wrinkles
◦Gentle enough for all skin types and tones
◦Clinically proven results
◦Maximum penetration of light
◦4 wavelengths of light: 610nm (amber), 640nm (red), 660nm (super red) and 850nm (near infrared)
◦Clinical studies show a significant reduction in wrinkles seen from the use of red light therapy
◦High-quality light emitting diodes (LEDs) provide a focused beam to ensure the maximum penetration of light per treatment
◦Clear lens covers the LEDs to help keep the device clean
◦Built-in shut-off timer ensures a safe, consistent treatment with every use
◦Hand-assembled from high-quality ABS plastic for durability
◦Lightweight, compact and portable
◦Designed to fit comfortably in the palm of the hand
5-year Warranty
Package contains:
◦Pure Rayz light therapy tool
◦Power supply and adaptor
◦Storage pouch
◦User manual
Protective eye goggles
Directions:
Please read the Operators Manual fully before using the Baby Quasar Pure Rayz.
1.Always start with a clean, dry face
2.Turn on your Baby Quasar Pure Rayz for Wrinkles
3.For initial treatment, use for 3 minutes per area, 5 days a week, for 8 weeks
4.After 8 weeks, only minimal touch-ups are needed to sustain results
please click below for further information:
Baby Quasar pure rayz Manual
Baby Quasar pure rayz Specifications
WARNINGS:Consult with your physician prior to use of Baby Quasar light therapy if any of these conditions apply.
Pregnancy
Epilepsy
Steroid or Cortisone injections
Medication which may cause photosensitivity
Thyroid medication (may increases the uptake of iodine)