Details
Quasar MD PLUS - Your Skin is All You Got
Your skin says a lot about you. Get younger looking skin with Quasar's powerful MD PLUS. You can target wrinkles, fine lines, and skin laxity with the most powerful home use light therapy tool available. The MD's four wavelengths of light penetrate deeply to stimulate the production of collagen and elastin – the building blocks of young, healthy looking skin.
You lead a busy life, but you can spend a few minutes with your Quasar while watching TV or reading a book. Your skin will love the warm and soothing glow that leads to a more youthful look. After an eight week initial program, treat only occasionally to maintain benefits.
How to Use: Apply gently to the skin for three minutes in areas of concern; move the Quasar MD PLUS slowly to evenly distribute the light. The MD will turn off after three minutes.
For the best all-around skin care treatment, combine the Quasar MD PLUS with the Quasar MD Blue for both anti-aging and blemish control.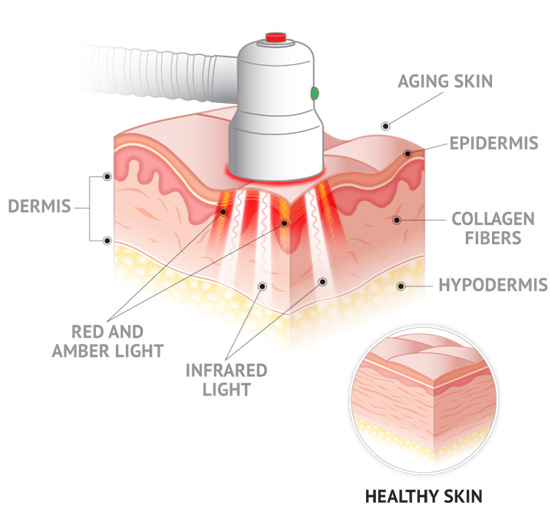 Benefits:
• Creates smoother skin by building collagen and elastin;
• Easy to use, only three minutes of light in each area of concern;
• Pain free, no side effects when used as recommended;
• Benefits last for months, with occasional touch up treatment;
• Combines well with topical products;
• Personal customer support;
• Lifetime, fix or replace warranty;
• Personal customer support.
Features:
• Four wavelengths of Amber, Red, and Infrared light to deeply penetrate;
• Breakthrough C-Factor pulse modulation technology to increase collagen in the skin;
• FDA cleared for home use;
• All medical grade aluminum construction;
• Made in the USA;
• Lifetime warranty.
Quasar MD PLUS Kit Includes:
Quasar MD PLUS
Goggles
User manual
Power supply and UK adapter
one clear, removable lens cap to keep your light therapy tool clean
NOTE: The Quasar MD PLUS has a larger head than the Baby Quasar Plus so you can treat a larger area and cut down your overall treatment time.
BABY QUASAR PLUS OR QUASAR MD PLUS
Both the Quasar MD PLUS and Baby Quasar PLUS are far more powerful than others tools on the market.
The Baby Quasar PLUS has a treatment head measuring 1.44 inches in diameter. The Quasar MD PLUS has a treatment head measuring 1.94 inches in diameter.
The Baby Quasar PLUS uses 3mm LEDs whereas the Quasar MD PLUS uses 5mm LEDs. The larger Quasar MD PLUS means quicker total treatment time.
The Quasar MD Plus uses 4 different wave lengths (amber, amber/red, red and infrared).  Because there are 4 different wave lengths, the amber LEDs will be appear dim, the red will be bright and the infrared will appear to be off (you cannot see infrared light with the naked eye) so not all of the LEDs should appear to be on
RECOMMENDED USEAGE:
Light Treatments with the Baby Quasar are recommended to be used 5 days per week, treating each area for 3 minutes. After 8 weeks, use as needed (1-2 times per week).
Results :
may vary based on skin type and skin damage. The result is decrease in appearance of file lines, wrinkles, enlarged pores, and age spots. The skin will feel smoother and firmer and look younger.
For Further information please click on the links below:
Baby Quasar Quick Guide
Baby Quasar MD Plus manual
Quasar MD Specifications
BABY QUASAR Plus OR QUASAR MD Plus
BABY QUASAR FAQ's
WARNINGS:
Consult with your physician prior to use of Baby Quasar light therapy if any of these conditions apply.
Pregnancy
Epilepsy
Steroid or Cortisone injections
Medication which may cause photosensitivity
Thyroid medication (may increases the uptake of iodine)
Huda Kattan, an award winning blogger and Hollywood-trained celebrity makeup artist in Dubai