Details
Quasar MD Blue - Give Troubled Skin the Blues
You can eliminate problem skin and restore your skin's natural glow with the Quasar MD Blue. Prevent and reduce blemishes due to common acne. When you bathe your skin with the high spectral purity of the Quasar's violet-blue light, you kill the acne bacteria which cause breakouts.
Quasar's MD treats mild to moderate acne and is proven to kill acne-causing bacteria anywhere on the body. Quasar's powerful blue light attacks the bacteria by releasing singlets of oxygen, thus causing the acne bacteria to self-destruct. Unlike topical products, the blue light penetrates into the pores where the bacteria do the most damage. With the Quasar Blue MD, you can get rid of harsh, drying acne products and expensive medications which actually can do more harm than good.
How to use: Treat as needed to prevent or diminish blemishes. Apply light gently to the skin; move the MD over the skin to distribute the light for about four minutes in each area of concern.
For the best all-around skin care treatment, combine the Blue MD with the Quasar Red MD for both anti-aging and blemish control.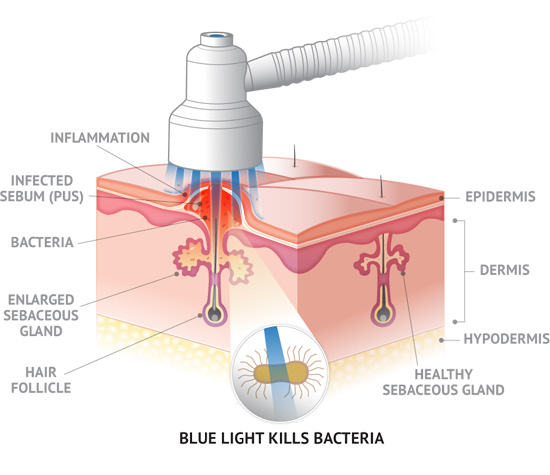 Benefits:
• Helps to prevent breakouts;
• Reduces blemishes caused by acne bacteria;
• Kills acne-causing bacteria;
• Gentle, safe and painless;
• 100% natural and dermatologist-recommended;
• Personal customer support;
• Lifetime warranty;
• Personal customer support.
Features:
• All medical grade aluminum construction;
• Powerful, high output 415 nanometer LED light;
• Only four minutes of light needed in areas of concern;
• FDA cleared for home use.
• Made in the USA;
• Lifetime warranty.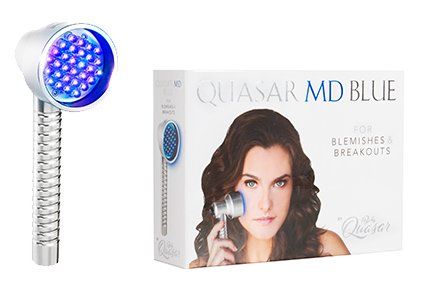 Quasar MD Blue Kit Includes:
•Quasar MD BLUE
•Protective Lens Cap
•Instruction Manual
•Lifetime Quasar Bio-Tech Inc Warranty
•Power supply and UK adapter
•goggles
NOTE: The Quasar MD Blue has a larger head than the Quasar Baby Blue so you can treat a larger area and cut down your overall treatment time.
Further information please click on the links below:
Baby Quasar MD Blue manual
Quasar MD BLUE Specifications
WARNINGS:
Consult with your physician prior to use of Baby Quasar light therapy if any of these conditions apply.
Pregnancy
Epilepsy
Steroid or Cortisone injections
Medication which may cause photosensitivity
Thyroid medication (may increases the uptake of iodine)