Details
Quasar Baby Blue - Award Winning Blemish Control
New Beauty – Beauty Choice Award

You can eliminate problem skin and restore your skin's natural glow with the Quasar Baby Blue. Prevent and reduce blemishes due to common acne. When you bathe your skin with the high spectral purity of the Quasar's violet-blue light, you kill the acne bacteria which cause breakouts.
Quasar's Baby Blue treats mild to moderate acne and is proven to kill acne-causing bacteria anywhere on the body. Quasar's powerful blue light attacks the bacteria by releasing singlets of oxygen, thus causing the acne bacteria to self-destruct. Unlike topical products, the blue light penetrates into the pores where the bacteria do the most damage. With the Quasar Baby Blue, you can get rid of harsh, drying acne products and expensive medications which actually can do more harm than good.
How to use: Treat as needed to prevent or diminish blemishes. Apply light gently to the skin; move the Quasar Baby Blue over the skin to distribute the light for about four minutes in each area of concern.
For the best all-around skin care treatment, combine the Quasar Baby Blue with the Baby Quasar PLUS for both anti-aging and blemish control.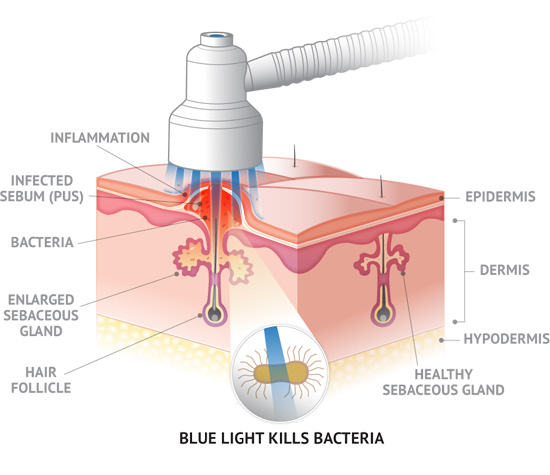 Benefits:
• Helps to prevent breakouts;
• Reduces blemishes caused by acne bacteria;
• Kills acne-causing bacteria;
• Gentle, safe and painless;
• 100% natural and dermatologist-recommended;
• Personal customer support;
• Lifetime warranty;
• Personal customer support.
Features:
• All medical grade aluminum construction;
• Powerful, high output 415 nanometer LED light;
• Only four minutes of light needed in areas of concern.
• FDA cleared for home use.
• Made in the USA.
Quasar Baby Blue Kit Includes:
:
Baby Blue device
User manual
Lifetime Warranty
Power supply and UK adapter
googles
Lens Cap to Protect LEDs and allow use by different persons;
Directions:
Thoroughly clean your face with your favorite cleanser. Divide the face into 4 sections. Apply four minutes of light into each area Starting at section A, move the wand slowly over that area for four minutes. Press lightly, only firmly enough to keep the face of the Baby Quasar Blue against the skin. Try not to let light escape as only the light penetrating will have a therapeutic benefit.
Push the button on the back of the wand until indicator light is not shining and LEDs turn off. You are now finished with the treatment. After disconnecting the unit from the power source, clean the equipment per instructions provided in the user manual
use daily basis for optimal results treat 4 section, 4 minutes each section – total treatment time 16 minutes. Some people use every other days with good results. Your treatment schedule may vary slightly due to skin type or skin condition.For best results, follow up with the Baby Quasar plus on alternating days. 
With regular and continued use, Baby Quasar Blue light therapy treatment will dramatically improve the appearance of acneic skin, resulting in a clean, clear complexion. For best results, combine with the Baby Quasar's red and infrared light to help stimulate healing and reduce inflammation.
Further information please click on the links below:
Baby Quasar Quick Guide
Baby Quasar blue manual
Baby Blue Specifications
WARNINGS:Consult with your physician prior to use of Baby Quasar light therapy if any of these conditions apply.
Pregnancy
Epilepsy
Steroid or Cortisone injections
Medication which may cause photosensitivity
Thyroid medication (may increases the uptake of iodine)
FAQ's
Why is Baby Blue better than chemicals for treating my blemishes?
The Baby Blue is a one-time purchase versus the ongoing costs of chemical treatments. Medications can be harsh and drying to the skin but Quasar Baby Blue emits a soothing blue light that will feel inviting to your skin.
Can Quasar Baby Blue help my hormonal breakouts?
Absolutely! Baby Blue kills the skin-irritating bacteria that causes hormonal breakouts. Baby Blue is the most portable and effective tool for treating blemishes and other impromptu beauty marks.
Suddenly I have blemishes like my teenager. Will the Baby Blue help me?,br> Certainly! The blue light kills acne-causing bacteria anywhere on the body. With the help of Baby Blue your skin will be clear and blemish free. You can also avoid the use of drying chemicals and expensive medications.