Apothederm Stretch Mark Cream
- Visible results in as little as 2 weeks
- Improves skin texture and smoothness
- Protects the skin to help prevent future stretch marks
- Effective for old or new stretch marks
The Stretch Mark Vanishing Act
As scientists and skin care specialists, we deal with facts every day. And the fact is that most of us have or will get stretch marks. But it's also true that you can do something about them.
Clinically proven Apothederm Stretch Mark Cream reinforces the skin's fundamental support structures and helps to visibly repair existing stretch marks. This fast-absorbing lotion is formulated with our patented SmartPeptide technology and helps build collagen while reducing the appearance of red and silver stretch marks, all while smoothing your skin's texture
size:5.7oz
Benefits:
- Visible results in as little as 2 weeks with continued improvement over time
- Evens skin tone
- Improves skin texture and smoothness
- Protects the skin to help prevent future stretch marks
- Reduces the appearance of both red and silver stretch marks
- Helps support and firm the skin
- Leaves skin soft and moisturized
- Effective for old or new stretch marks
Skin Care Backed by Science
We asked a leading dermatologist to conduct an independent study using our Stretch Mark Cream, and here are the results:
70% of participants experienced the first signs of visible improvement in stretch marks in 14 days
90+% of participants saw overall improvement after 12 weeks of continued use
The study was based on 30 subjects and included new and old stretch marks as well as red and silver stretch marks. Data on file.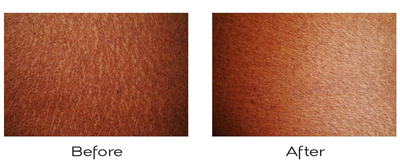 Key Ingredients:
Here's Why It's So Effective
Our Stretch Mark Cream optimally blends four natural emollients: shea butter, cocoa butter, olive oil and highly moisturizing meadowfoam seed oil for a silky, fast-absorbing formulation. Adding power-packed action are patented heptapeptide-7, resveratrol, licorice extract, brightening amino acids, algae extract, sodium hyaluronate and other advanced ingredients that work to fade the appearance of stretch marks and nourish the skin.
Heptapeptide-7
Heptapeptide-7 is a bioactive SmartPeptide™ that boosts collagen and helps support tissue and consists of seven naturally occurring amino acids that are commonly found in the skin. This peptide sequence is modeled on natural sequences found as part of the body's own defend and repair system. The use of Heptapeptide-7 on the skin is similar to the body's own short bioactive peptides present in the skin and in the same manner, Heptapeptide-7 performs its function and then is broken down into amino acids which are naturally present throughout the body.
Butyrospermum Parkii (Shea Butter)
This emollient moisturizer corrects dehydration and dryness while protecting the skin's natural moisture balance.
Limnanthes Alba (Meadowfoam) Seed Oil
This emollient triglyceride is composed of more than 98% long chain fatty acids. It also contains naturally occurring antioxidant tocopherols. It forms a moisture barrier and helps prevent moisture loss.
Olea Europaea (Olive) Fruit Oil
This is an emollient that helps soften skin.
Theobroma Cacao (Cocoa) Seed Butter
This hydrates and softens the skin.
Sodium Hyaluronate
Super humectant, this can draw 1,000 times its own weight in moisture to the skin and helps maintain hydration balance.
Pichia/Resveratrol Ferment Extract
This antioxidant helps to reduce discoloration.
Glycyrrhiza Glabra (Licorice) Root Extract
An anti-irritant that helps to reduce discoloration.
Directions:
Apply morning and evening in a circular motion to areas with stretch marks. Allow the cream to dry before putting on clothes. Keep out of eyes.
The Secret of SmartPeptide™ technology factsheet (pdf)
Apothederm™ Stretch Mark Cream Clinical Study Overview (pdf)
Ingredients

| | |
| --- | --- |
| Ingredients | Aqua (Water), Glycerin, Butyrospermum Parkii (Shea Butter), Limnanthes Alba (Meadowfoam) Seed Oil, Cetyl Alcohol, Glyceryl Stearate, Cyclopentasiloxane, PPG-3 Benzyl Ether Myristate, Tocopheryl Acetate, Theobroma Cacao (Cocoa) Seed Butter, Sodium Hyaluronate, Sodium Stearoyl Glutamate, Panthenol, Pichia/Resveratrol Ferment Extract, Glycyrrhiza Glabra (Licorice) Root Extract, Olea Europaea (Olive) Fruit Oil, Bisabolol, Glucosamine HCL Algae Extract, Yeast Extract, Heptapeptide-7, Glycine, Alanine, Isoleucine, Leucine, Urea, Butylene Glycol, Phenoxyethanol, Caprylyl Glycol, Hexylene Glycol, Ethylhexylglycerin, Xanthan Gum. |
I think this is the best cream I have come across, I think it's making a difference after only a week, my skins certainly sort and a little firmer