Details
MOISTURISE
ADVANCED SKIN REGENERATION
The Endocare skincare range's unique SCA Biorepair Technology harnesses the power of nature to provide scientifically advanced regeneration of ageing and photo-damaged skin. SCA Biorepair Technology is a Natural Growth Factor derived from the natural secretion of the mollusc Cryptomphallus aspersa. The secretion has enabled the mollusc to survive thousands of years and periods of extreme trauma such as cold, heat, dryness, chemical change and UV irradiation, challenges that our skin faces every day.
A patented, pharmaceutical-like process results in a naturally derived dermoactive ingredient that harnesses this natural growth-factor regenerative power - SCA Biorepair Technology.
SCA has been shown to; increase the number and activity of fibroblasts (the skin's generators of collagen, elastin and hyaluronic acid), build the underlying architecture of the skin and provide anti-oxidant activity against skin damaging free radicals.
The Endocare skincare range uses differing concentrations (Repair Index) of SCA Biorepair Technology in elegant formulations designed for specific areas and treatment needs. Regular and combined use of the range will regenerate the skin and reduce the visible signs of ageing and photo-damage.
Aestheticare Endocare Tensage Cream
A rich creamy gel specially designed for daily use on mature skin. Non-oily to the touch and rapidly absorbed its unique formulation regenerates and helps re-firm mature and damaged skin, enhancing tautness and smoothness.
SCA Biorepair Technology: Repair
Index 6
, advanced skin regeneration.
Tensderm: Active phytoestrogens and calcium helping re-firm mature skin.
Hydronutritive complex: Hydrovyton 24, Hygroplex and Pentavitin replicate the skin's natural moisturising factors (NMF) to provide intensive and sustained lipid restoration and moisturisation.
Size: 30 ml
Directions:
Suitable for mature or sun damaged skin .
Apply once or twice daily on cleansed skin, gently massaging until absorbed.
Allow to dry before applying sunscreen.
SKIN REJUVENATION PROGRAMME
AM - Cleanse with Endocare Cleanser then gently massage Endocare Tensage Serum then follow with Heliocare sunscreen.
PM - Cleanse with Endocare Cleanser then gently massage Endocare Tensage Serum then follow with Endocare Tensage Cream
For a Boost switch to Endocare Tensage concentrate Serum for 4 weeks, after which switch back to standard Endocare Tensage Serum.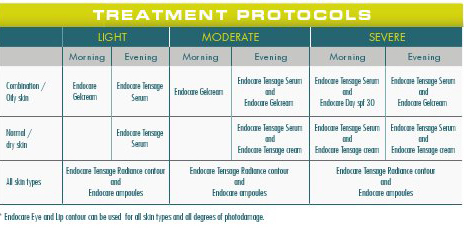 Please click here to view the Endocare Treatment Protocol as a PDF
For more information please click on Endocare Brochure