Details
ADVANCED SKIN REGENERATION
The Endocare skincare range's unique SCA Biorepair Technology harnesses the power of nature to provide scientifically advanced regeneration of ageing and photo-damaged skin. SCA Biorepair Technology is a Natural Growth Factor derived from the natural secretion of the mollusc Cryptomphallus aspersa. The secretion has enabled the mollusc to survive thousands of years and periods of extreme trauma such as cold, heat, dryness, chemical change and UV irradiation, challenges that our skin faces every day.
A patented, pharmaceutical-like process results in a naturally derived dermoactive ingredient that harnesses this natural growth-factor regenerative power - SCA Biorepair Technology.
SCA has been shown to; increase the number and activity of fibroblasts (the skin's generators of collagen, elastin and hyaluronic acid), build the underlying architecture of the skin and provide anti-oxidant activity against skin damaging free radicals.
The Endocare skincare range uses differing concentrations (Repair Index) of SCA Biorepair Technology in elegant formulations designed for specific areas and treatment needs. Regular and combined use of the range will regenerate the skin and reduce the visible signs of ageing and photo-damage.
Aestheticare Endocare Tensage Radiance eye contour 15ml
Endocare® Tensage Radiance Eye Contour is an anti-ageing regenerating fluid with a quick absorption that unifies in just one product antioxidant and tightening actions, providing at the same time a radiance effect in the eye area.
SCA Biorepair Technology: Repair
Index 10
; intensive natural growth factor skin regeneration.
Tensderm: Active phytoestrogens and calcium that have a firming and tightening effect.
Enzyme Dismutina-BT: Superoxide dismutase, which has anti-radical and anti-inflammatory activity.
Hydrating and enhancing complex: Hyaluronic acid, squalene and soft focus microspheres.
Eyeseryl tetrapeptide: Helps improve micro-circulation to alleviate the appearance of puffiness and under-eye circles whilst moisturising and brightening the eye area.
Syn-Coll tripeptide: Increases collagen stimulation, reducing deep wrinkles and improving over-all appearance.
Illuminating agents: Light-capturing pigments which illuminate
Directions:
Apply in the morning as needed to the orbital bone around the eyes, starting from the inner corner of the eye. Let the cream penetrate by spreading it gently from the inside to the outside of the eye. Perfectly compatible with make-up.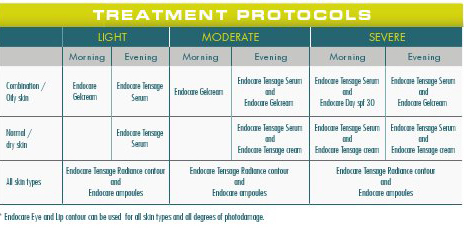 Please click here to view the Endocare Treatment Protocol as a PDF
For more information please click on Endocare Brochure