Details
ADVANCED SKIN REGENERATION
The Endocare skincare range's unique SCA Biorepair Technology harnesses the power of nature to provide scientifically advanced regeneration of ageing and photo-damaged skin. SCA Biorepair Technology is a Natural Growth Factor derived from the natural secretion of the mollusc Cryptomphallus aspersa. The secretion has enabled the mollusc to survive thousands of years and periods of extreme trauma such as cold, heat, dryness, chemical change and UV irradiation, challenges that our skin faces every day.
A patented, pharmaceutical-like process results in a naturally derived dermoactive ingredient that harnesses this natural growth-factor regenerative power - SCA Biorepair Technology.
SCA has been shown to; increase the number and activity of fibroblasts (the skin's generators of collagen, elastin and hyaluronic acid), build the underlying architecture of the skin and provide anti-oxidant activity against skin damaging free radicals.
The Endocare skincare range uses differing concentrations (Repair Index) of SCA Biorepair Technology in elegant formulations designed for specific areas and treatment needs. Regular and combined use of the range will regenerate the skin and reduce the visible signs of ageing and photo-damage.
Aestheticare Tensage Ampoules 10 x 2ml
Natural skin regeneration with Endocare® Tensage is completed with skin boosting strength Endocare® Tensage Ampoules. Perfect for the intensive treatment of face, neck and décolleté it is designed to regenerate and firm ageing and photo damaged skin with it's ultra-strength combination of SCA 50%, Tensderm™ phytoestrogen and calcium skin-firming complex and hexapeptide. Additional active ingredients are: Albatin, Alistin and Natriquest to help lighten and brighten sun damaged skin and the intensive Hydrosystem skin-moisturisers.
Endocare® Tensage Ampoules are also ideal for preparing the skin before, and for use during, in-clinic skin regeneration programmes and in combination regimes with Vitamin A skin regenerating products.
Sun damaged (or, photo damaged) skin requires intensive hydration in order to start repairing and regenerating. The Endocare Tensage Ampoules contain Hydrosystem skin moisturisers that bring the skin's natural moisture back to the surface. As well as this much-needed hydration, sun damaged skin also lacks an even tone and texture due to pigmented patches caused by the sun damage. Tensage Ampoules help to even skin tone and with 50% SCA Biorepair Technology they give the skin the growth factors it has lost over time.
size:10 x 2ml
Directions:
Suitable for dry, damaged and mature skin types. Ideal for use on the face, neck and décolleté, simply apply to the skin every morning and evening for the best results.
Each box of 10 ampoules is a 30 day treatment program. One ampoule should be used over a 3 day period using the enclosed applicator. Simply apply directly to the face, neck and décolleté after cleansing and before application of a sun protection product.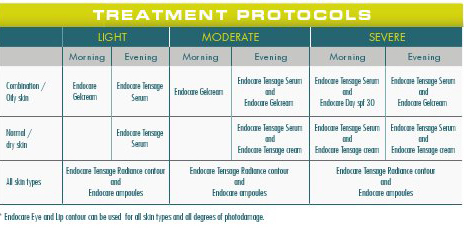 Please click here to view the Endocare Treatment Protocol as a PDF
For more information please click on Endocare Brochure