Aestheticare Auriderm XO Cream 30ml
- Aestheticare - AURIGA INTERNATIONAL
- Auriderm XO cream 30ml
- Bruise improvement
AURIGA INTERNATIONAL Auriderm XO cream 30ml is a unique Vitamin K Oxide emulsion cream formulated to help bruises look better faster.

Auriderm XO helps the bruises that can occur after some cosmetic procedures look better faster. Nanosomes encapsulate the Vitamin K Oxide, an essential component of the natural bruise healing process and consistently deliver it through the skin's epidermis to the site of the bruise.

Auriderm XO results
The image below shows the results achieved using Auriderm XO after an upper eye lid blepharoplasty versus an alternative product.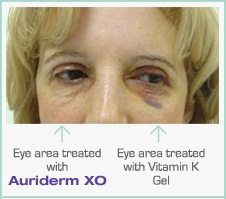 Auriderm XO is used after a surgical operation or to accompany any cosmetic procedure. It is particularly recommended upon laser treatments, and its action is also beneficial upon filling injections, blepharoplasty, facelift and liposuction. It is furthermore effective on rosacea.

Vitamin K oxide: strengthens the walls of the blood vessels by limiting their tendency to fragment.
•Vitamins C and E: slow down the transformation of the ferrous iron (soluble) responsible for the blue colour into ferric iron (insoluble).


Directions: Apply a thin layer of Auriderm XO cream/ emulsion gel twice daily to the required area and rub in gently. Continue to use until the desired results are obtained or use as directed by your Aesthetic Professional. Auriderm XO has a 6 month shelf life once opened.

See what the press say about Auriderm XO Gel/cream ... Auriderm XO (PDF file)
Click here to see the clinical studies
Ingredients

| | |
| --- | --- |
| Ingredients | Aqua, alcohol, ethoxydiglycol, caprilyc / capric triglyceride, phytonadione epoxide hexane, propylene glycol, sodiumacrylate / sodium acryloyldimethyl /taurate copolymer, polyisobutene, caprylyl / capryl glucoside, styrene / acrylate copolymer, carbomer, triethanolamine, lecithin, tocopherol, tocopheryl acetate, ascorbyl palmitate, disodium edta. |
I use this age's ago and now i order again,the best for the signs from my face!
Used on a bruise, seemed to speed healing
Sorry no video available.