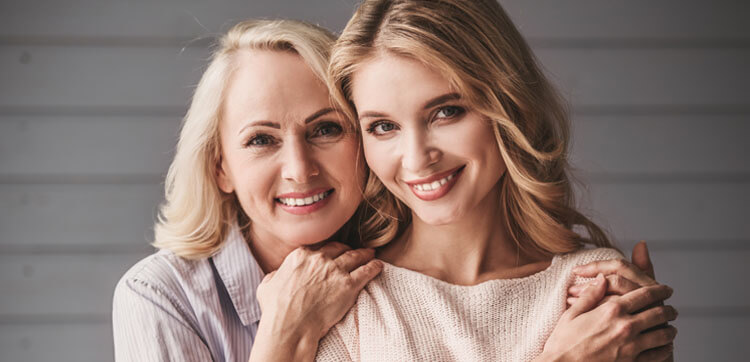 While you may have inherited Mum's gorgeous cheekbones, you might have been gifted with her varicose veins too!!
Several factors of signs of ageing such as dark circles, facial veins & age spots are related to our genes.
Don't worry - the good news is that we have the products to help.
 Pigmentation & age spots
If you're very fair skinned like your mother, any pigmentation is likely to be from UV damage in the form of age spots.
What you can do?
- Never skip your daily sunscreen
- Treat with a pigment lightening product
- Use a vitamin C serum every morning
- At night, use a Retinol product
The darkening of the pigment underneath the eyes can be caused by a number of environmental and biological factors. The reason for an individual's dark circles may be that excessive pigmentation is simply genetic or hereditary.
What you can do?
-  Look out for eye products that contain Chromabright, Vitamin K, caffeine, Haloxyl, N-Hydroxysuccinimide and Chrysin
- Use mineral pigments for a concealing effect
- Apply SPF to defend against wrinkles or the overproduction of melanin that can make dark circles worse.
Redness, Rosacea & Facial Veins
If you have your mother's fair skin that burns easily or rarely tans there's a strong chance that like her, you'll also be prone to facial redness and thread veins.
Also you may flush when you eat spicy food or drink a glass of wine.
What you can do?
- A vitamin C serum has great anti-inflammatory effects
- Never skip your SPF as it helps minimise flare-ups caused by sun exposure
- Using a good moisturiser helps preserve and replenish the skin barrier
Look for a moisturising formula containing ceramides, fatty acids, and cholesterol all of which will help minimise symptoms of redness, stinging and dryness.