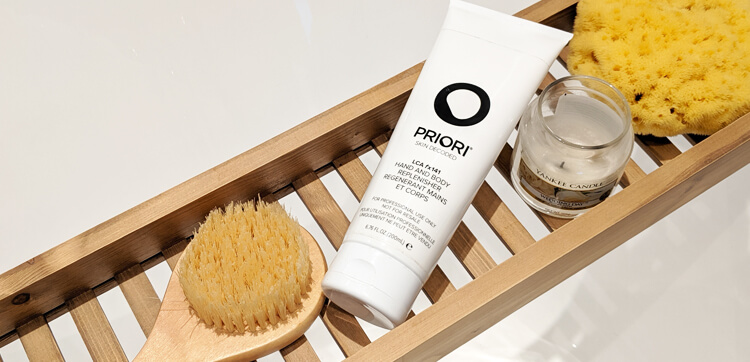 This ultra-luxurious emulsion adapts to all your needs – providing your skin with a customised treatment that gently exfoliates, while moisturising and providing essential antioxidants for a softer, smoother appearance.
Consider this a corrective, intensive body cream that helps reduce imperfections, including breakouts, stretch marks, pigmentation, dry skin and ingrown hairs.
- 16% LCA Complex: pH-correct Lactic Acid and essential antioxidant vitamins A, C, E & Pro-vitamin A for advanced moisturisation, multi-layer skin renewal and antioxidant protection.
- Sericin: rich in moisturising emollients, helps smooth appearance of wrinkles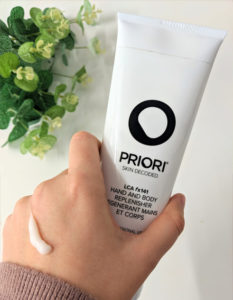 My review:
How many of you moisturised this morning? And I don't mean your face - I am talking about your body!!
I always find that I need to moisturise my body more during the winter months otherwise my skin becomes really dry and itchy, so I was keen to try the NEW PRIORI® Hand and Body Replenisher cream.
As you may know, lactic acid is one of the most gentle & hydrating exfoliating AHA's making it perfect for winter time.
I love the fact that PRIORI® Hand and Body Replenisher LCA fx141 is both exfoliating as well as hydrating.
It has a light, non greasy, non sticky feel which absorbs immediately.
The product also has a nice fresh scent, which is not at all over powering.
Results..........
Using PRIORI® Hand and Body Replenisher LCA fx141 really has made a difference and my body feels so much smoother & softer.
This is definitely going be the body moisturiser that I will use during the winter months.
Don't forget to moisturise your hands & feet as it's great for dry cracked heals & a saviour for dry hands caused by the cold weather.
Andrea