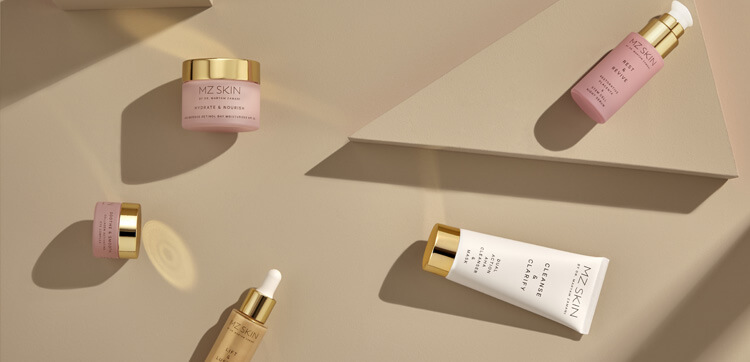 Created by Dr. Maryam Zamani a highly respected Aesthetic Doctor and Oculoplastic Surgeon, who is widely referred to as 'The Eye Doctor'.
MZ SKIN is a luxurious and performance driven skincare range loved by A-list and Royal clientele including Elle Macpherson, Gwyneth Paltrow, Arizona Muse, Selma Blair and Princess Charlene of Monaco.
Best Sellers:
Rest & Revive
Restorative Placenta & Stem Cell Night Serum
Look fresh and revitalised with this intelligent night serum. Contains an innovative blend of ovine placenta and stem cells combined with peptides to detoxify, strengthen and repair the skin during its nightly rejuvenation. Stimulates collagen and elastin, replenishes moisture to plump and smooth fine lines and wrinkles. Results in revived, hydrated skin and an even skin tone.
Light-therapy Golden Facial Treatment Device
with five coloured light treatments
This LED (Light Emitting Diode)-powered device takes the innovative science typically found in a doctor's office and brings it into the home with five-coloured lights that result in transformative radiant skin. The healing combination of the LED calms and rejuvenates the complexion while visibly diminishing hyper-pigmentation.
Lift & Lustre
Golden Elixir Antioxidant Serum
This liquid gold, super-concentrated serum is rich in stem cells, botanical extracts and Hyaluronic Acid. The luxurious, silky formula deeply hydrates, protects against oxidative damage, restores radiance and adds a soft-focused luminosity – instantly.
Hydra-Bright Golden Eye Treatment Mask
A gold infused, anti-ageing eye treatment mask saturated with a complex of active ingredients to smooth and minimise the appearance of fine lines. Contains collagen, hyaluronic acid and seaweed to brighten dark circles, reduce puffiness and restore hydration. Improves elasticity and firmness around the eye.