Medik8 - The skincare experts
explain the anti-ageing benefits of Vitamin C and Vitamin A



A COMBINATION TREATMENT APPROACH FOR OPTIMAL RESULTS Vitamin C and A work synergistically to provide long lasting and visible anti-ageing results to your skin.

Vitamin A is clinically proven to increase the synthesis of collagen, creating a higher demand for Vitamin C! Hence, the daily use of a Vitamin C serum is strongly recommended to provide your skin with everything it needs. In addition, only Vitamin A can significantly boost elastin and fibrillin production at cellular levels, which are essential for a smooth and plump skin texture.

Medik8 offers professional strength products for a simple anti-ageing regime
VITAMIN C IN THE MORNING

Medik8 provides a complete range of highly stable Vitamin C serums to suit every skin type. Potent Vitamin C is clinically proven to have anti-ageing benefits. Medik8 Vitamin C serums protect your skin from free radicals throughout the day.
VITAMIN A AT NIGHT

Medik8's time-release Retinol range offers stable Vitamin A serums that deliver anti-ageing benefits during the night. Highly recommended by professional skincare experts, Retinol diminishes the appearance of fine lines and wrinkles.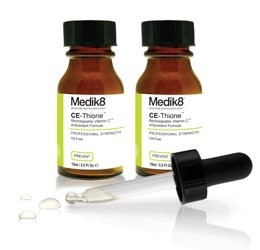 Facts about Vitamin C:

- It is essential for the synthesis and the transportation of collagen into the dermis
- It is an excellent antioxidant
- It reduces pigmentation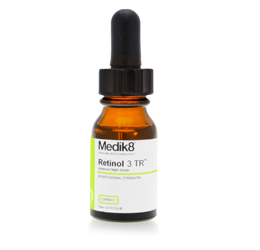 Facts about Vitamin A:

- It increases collagen production
- It significantly boosts elastin and fibrillin production
- It increases cell proliferation
- It refines pores