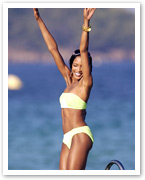 Cellulite doesn't discriminate, no matter what age or size we are, the dreaded 'orange peel' skin can affect us all. Trying cellulite treatments in combination with improving your diet can really help.
Cellulite is bumpy fat deposits underneath the skin and it's caused by a number of factors including stress, genetics, hormones, inactive lifestyle and more. The build-up of toxins in the body and the elasticity of the skin can also contribute to cellulite. You could try regular exercise and avoid alcohol, cigarettes and sugary or processed foods (sorry).
You could also try the following foods and see if they make a difference.
Aparagus
This is one of the best cellulite busting foods because it will help to improve your blood circulation by increasing the strength of your veins. If the veins are stronger then the blood will pump around the body much more efficiently.
Avocado
Full of amino acids and essential fats, they allow the cells to function properly. If the cells are not efficient and strong then your cellulite will appear to be worse.
Bananas
Excellent for improving blood circulation to flush toxins our of your body and will encourage cellulite reduction and prevention.
Beans
Excellent cellulite fighting foods because they're high in fibre and protein. Protein helps to strengthen the cells and the muscles and fibre will help to carry waste products out of the body (fats).
Berries
As berries are high in antioxidants, they'll help to combat the free radicals that roam your body and attack cells.
Bran and Oat Cereals
Cereals are well known for their fibre content but they also contain antioxidants enabling you to get the all-round package.
Broccoli
Broccoli has one property that the majority of other foods do not have - alpha lipoic. This is a substance that actively works to prevent collagen hardening and thus causing cellulite.
Citrus Fruit
Particularly oranges but any citrus food is better than nothing. Oranges are a source of methoxylated bioflavonoids, they help to improve the blood circulation, correct any cell imbalances that may lead to cellulite.
Nuts
Nuts have an all-round goodness. A great source of essential fatty acids, they improve your general health so your body can begin to fight the orange peel.
Oily Fish
Oily fish contain loads of great nutrients and fatty acids, all of which help your body to metabolise fats much more efficiently and quickly. If your fat is metabolised then your cellulite will usually go with it.
Jan Marini CelluliTx Cellulite Cream encourages collagen production to improve skin structure and hide the appearance of dimpling fat.